The screen on your iPhone 7 is probably the biggest drain on the device's battery. The brighter the screen, the more battery life it consumes.
Finding the right balance for that brightness setting is an important aspect of making sure that your phone doesn't die so quickly.
You can also check out this how to turn off auto brightness on iPhone 13 video for additional information.
One good way to manage this is by enabling a setting called Auto Brightness.
This setting allows the screen to adjust automatically based on the ambient lighting around the device. That means that the screen will dim or brighten as your environment is darker or lighter.
Our guide below will show you where to locate that Auto Brightness setting so that you can turn it on or off.
Want to learn more? Click here to read about iPhone brightness for newer iPhone models and iOS versions.
How to Enable or Disable Auto Brightness on an iPhone 7
The steps in this article were performed on an iPhone 7 Plus in iOS 12.3.1. Note that turning off Auto Brightness can cause your device to use more of its battery.
Step 1: Open the Settings app.
Step 2: Choose the General option.
Step 3: Touch the Accessibility button.
Step 4: Select the Display Accommodations option.
Step 5: Tap the button the the right of Auto Brightness to turn it on or off.
Find out how to adjust the setting that controls how quickly your iPhone's screen turns off since the last time you touched it.
Video About the Auto Brightness Settings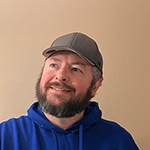 Matt Jacobs has been working as an IT consultant for small businesses since receiving his Master's degree in 2003. While he still does some consulting work, his primary focus now is on creating technology support content for SupportYourTech.com.
His work can be found on many websites and focuses on topics such as Microsoft Office, Apple devices, Android devices, Photoshop, and more.