When you open the Bluetooth menu on your iPhone, you can see a very long list of available devices. The length of this list is determined by how many Bluetooth accessories you have previously synced with your iPhone.
Because of this, particularly if you use your AirPods rather frequently, you might be interested in finding a way to modify the name of your AirPods so that you can locate them with greater ease.
Our can I change AirPods name on IPhone article below will show you how to modify the name of your AirPods that appears on the Bluetooth menu on your iPhone by following a few simple steps.
How to Change the Name of Your AirPods from an iPhone
Open Settings.
Select your AirPods.
Touch the name button.
Delete the old name and enter a new one.
Our guide continues below with additional information about how to change Airpods name on iPhone 13, including pictures of these steps.
Related: Find out more about the flashing orange light Airpods indicator to see what it means.
The entertaining and easy-to-use headphones known as Airpods are designed specifically for use with Apple's iPhone, although they work well with most other Bluetooth devices.
The process of connecting and utilizing them is straightforward, and the sound quality is really satisfying. Additionally, you are able to add them to other Apple services, such as the Find My App, in order to make use of the location-based features that are the focal point of that app.
But each pair of Airpods looks very much the same, and it's entirely feasible that another person in your house or at your place of work also has them. As a result, you might want to consider changing the name of your Airpods in order to make it simpler for you to determine whether or not you have the right set.
This information can be located and edited in the Settings app on your iPhone by going to a specific AirPods menu that appears when they are connected to your iPhone, or by opening the Bluetooth menu. Our instructions below will show you where to find go if you want to change your AirPods device name.
Video About Changing the AirPod Name
How to Rename Your Apple AirPods from an iPhone 13 (Guide with Pictures)
The steps in this guide were performed on an iPhone 13 in iOS 16, using first generation AirPods Pro.
Note that you will need to have your AirPods paired with your iPhone to complete these steps.
Step 1: Open the Settings app on your iPhone.
Step 2: Find the menu that shows the current name of your AirPods.
You can also open the Bluetooth menu, then tap the i to the right of your AirPods. As mentioned above, your AirPods will need to be paired with your iPhone currently for you to change the device name.
Step 3: Choose the Name field near the top of the screen.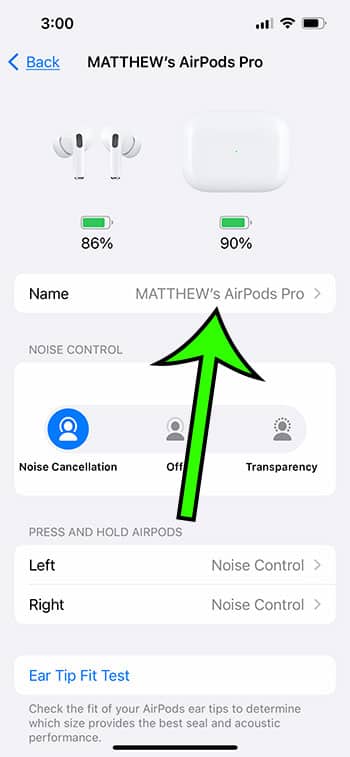 Step 4: Tap the x to delete the current name, then type in the new one that you want to use.
Now that you have completed the change Airpods name on IPhone steps, you should have a new name for your AirPods that you see in the various menus of the Settings app.
The name should also be updated if you look in the Find My App.
More Information About AirPods and the iPhone 13
Apple made the AirPods, which are a line of wireless earbuds. Since they came out in 2016, they've become one of the most popular wireless earbuds on the market. AirPods are made to work with Apple products, especially the iPhone.
One of the best things about AirPods is how easy they are to use. As soon as you open the case near your iPhone (or other Apple device), they automatically connect to it. Once they are connected, you can use the touch-sensitive controls on the AirPods to play, pause, skip tracks, and change the volume.
The AirPods also have a feature called "Automatic On/Off," which turns the earbuds off when they are not in your ears and turns them back on when you put them back in. This helps save battery life and makes it easy to pause music or podcasts when you need to leave the room.
Another important thing about AirPods is that you can use Siri by talking to them. Saying "Hey Siri" will turn Siri on, and you can then tell it to do things like "Play my favorite playlist" or "Call mom." This feature is especially helpful when you are on the go and need to make a quick call or switch songs without taking your phone out of your pocket.
AirPods also have a microphone built in, so you can use them to talk on the phone or record voice memos. The microphone is made to filter out background noise, making it easy to hear the person on the other end of the line even in a noisy place.
AirPods also have great battery life. Each earbud can last for about 5 hours on a single charge, and the charging case can hold multiple charges before it needs to be charged again. This means that you can use the AirPods all day without worrying about running out of power.
AirPods are the perfect accessory for the iPhone. Because the iPhone has Bluetooth, it is easy to connect the AirPods to your device. The AirPods are also made to work with other features of the iPhone, like Siri and automatic on/off. The iPhone also lets you change the settings on the AirPods and control how long the battery lasts.
In conclusion, AirPods are a great choice for anyone who wants wireless earbuds that are easy to use and of high quality. They work well with the iPhone because they are easy to use, Siri can be activated by voice, and they last a long time on a charge. They are also simple and sleek, which makes them a stylish choice for everyday wear.
Matthew Burleigh is the head writer at solveyourtech.com, where he has been writing tutorials about technology for over 15 years. His main areas of interest are iPhones and Microsoft Office, but he covers a variety of other software and devices.
You can read his full bio here.