The Personal Hotspot feature on the iPhone can be very helpful if you are away from home, school, or work and you need to get online with your computer or iPad.
These devices typically don't have their own cellular connection, but you can use the hotspot on your iPhone to let them get online.
Part of the hotspot process involves a password, though, which you will need to enter on any device that you want to connect to your iPhone.
Our hotspot password iPhone tutorial will walk you through finding this option and switching it to something else.
How to Change the Hotspot Password on an iPhone
Open Settings.
Select Personal Hotspot.
Tap the current password.
Enter the new password.
Our guide continues below with more information on this topic, including pictures of these steps.
You can share your iPhone data connection with other devices by using the Personal Hotspot function in iOS.
When you aren't near a wireless network, this is a terrific way to browse the Internet from your computer or tablet.
But, data on your iPhone is more expensive than data on your home or business network, so it's critical to limit access to your hotspot.
Hence, if someone else knows your hotspot password and is accessing it, you must modify your personal hotspot password to block their access.
Related: Check out our guide on changing the hotspot name if you would like it to be something different.
How to Give Your iPhone a New Hotspot Password
The steps in this article were performed on an iPhone 13 in iOS 16.
Step 1: Open the Settings app.
Step 2: Choose the Personal Hotspot option from the menu.
Step 3: Tap the button that displays the current hotspot password.
Step 4: Touch the x to the right of the password to delete it, then enter the new password.
Now that you know how to change your hotspot password iPhone setting, you will be able to make this adjustment any time that you give someone that password but don't want them to connect to your phone in the future.
More Information on iPhone Hotspots
It is important to note that using your personal hotspot requires you to be connected to a cellular network. Even if you are already connected to a Wi-Fi network, activating the personal hotspot and allowing other devices to connect to it will result in the use of cellular data.
This is one of the reasons why knowing how to reset hotspot password on iPhone is a smart idea. While connected to the Internet, devices like iPads and laptop computers can consume a lot of data, and that data will be spent as part of your iPhone data plan if they are on your hotspot.
After you have changed the hotspot password on your iPhone, you will need to toggle the Allow Others to Join setting on if you want to share your iPhone's cellular connection with those devices.
After you are done sharing your data, you can go back to Settings > Personal Hotspot > and tap the Allow Others to Join button to turn it off.
You can also access the Personal Hotspot feature on your device by swiping down from the top-right corner of the screen to open the Control Center, tapping and holding on the top-left square with all of your other wireless settings, then tapping the Personal Hotspot button to turn it on or off.
You are only able to use the Personal Hotspot feature on a cellular network, even if you are already connected to a Wi-Fi network. Once you turn on the Personal Hotspot and other people connect to your device, you will automatically disconnect from Wi-Fi and go on cellular.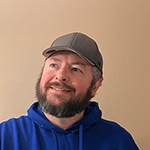 Matt Jacobs has been working as an IT consultant for small businesses since receiving his Master's degree in 2003. While he still does some consulting work, his primary focus now is on creating technology support content for SupportYourTech.com.
His work can be found on many websites and focuses on topics such as Microsoft Office, Apple devices, Android devices, Photoshop, and more.