If your mobile operator supports 5G networks, the iPhone 13 can connect to them.
Once connected to a 5G network, you can typically experience extremely fast download rates, potentially even faster than those available on your home or office Wi-Fi network.
But, the 5G option may not be activated on your device, which means you may need to modify a setting for it to operate.
The following article will show you how to enable 5G on an iPhone 13.
You can also check out this how to enable 5G on iPhone 13 video on YouTube for more information.
How to Enable iPhone 13 5G Option
Go to Settings.
Choose Cellular.
Choose the Cellular Data Options button.
Choose Voice & Data.
Choose one of the 5G options.
Our explanation continues below with more information, including screenshots, on how to enable 5G on an iPhone 13.
The ability to connect to a 5G network has been a popular feature of mobile phones produced in recent years.
It is the next generation of mobile networks and is expected to become increasingly popular as more customers and cellular operators adapt to it.
The iPhone 13 is one of the devices that can utilize 5G, albeit that capability can be disabled.
If you haven't seen the 5G network type in the top-right corner of your screen and believe you should be, check to see if the option isn't currently disabled on your device.
Our post below will explain how to locate the iPhone 13 5G setting so that you can select one of the 5G alternatives for voice and cellular data.
Related: You can also read this guide if you want to know how to turn 5G off on your iPhone later if you change your mind.
How to Enable 5G on Your iPhone 13
The steps in this section were carried out on an iPhone 13 running iOS 16.
If you want to enable 5G on your iPhone 13, follow these steps.
Step 1: Launch the Settings application.
Step 2: Go to the Cellular tab.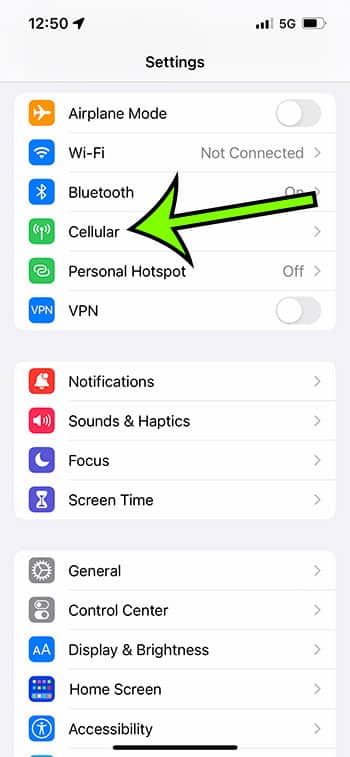 Step 3: Choose Cellular Data Options from the menu.
Step 4: Choose the Voice & Data option.
Step 5: Choose between 5G On or 5G Auto.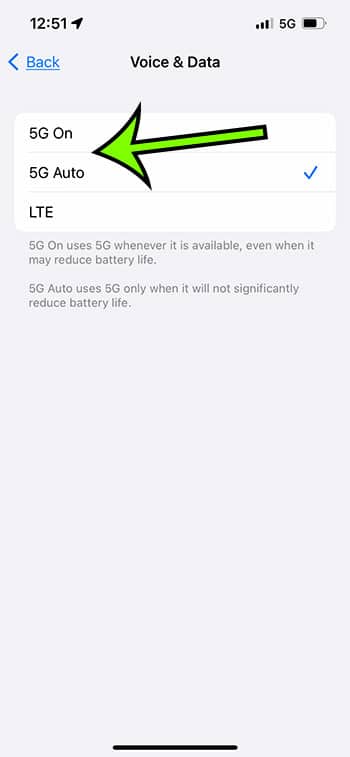 You'll be able to return to this menu and select your network connection type whenever you believe you might need to switch it now that you know how to enable 5G on an iPhone 13.
Additional Details about 5G on an iPhone
One of the most significant disadvantages of 5G is that connecting to such a network and employing its capacities will lead your phone to consume far more power than it would ordinarily.
Fortunately, there are several 5G settings for your phone, including one that considers battery usage when selecting whether or not to use 5G.
On the final screen in the preceding steps, you will notice three options on the Voice & Data menu. Among these alternatives are the following:
5G On – If you enable this option, your iPhone 13 will connect to 5G anytime it is available, even if it consumes a lot of battery life.
5G Auto – I choose this setting since it will connect to 5G only if the battery usage will not be excessive.
LTE remains a fast network connection, but it lacks the potential performance capabilities of 5G. Nevertheless, if you are linked to LTE, you will use less battery and data.
On the Cellular Data Options menu, there is also a Data Mode button that you can change.
This menu contains the following options:
Allow More Data on 5G – If you select this option, your phone may prefer 5G over Wi-Fi and complete some operations on a cellular network that it would normally wait for on Wi-Fi.
Basic cellular service allows you to do most things, but video and FaceTime quality is limited.
Low Data Mode disables several updates and background processes that might otherwise waste a lot of data.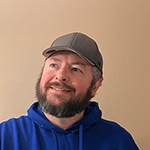 Matt Jacobs has been working as an IT consultant for small businesses since receiving his Master's degree in 2003. While he still does some consulting work, his primary focus now is on creating technology support content for SupportYourTech.com.
His work can be found on many websites and focuses on topics such as Microsoft Office, Apple devices, Android devices, Photoshop, and more.