While the iPhone has become quite user-friendly, and most people can pick it up and start using it without any technical knowledge, it is still quite complex.
The phone has several connections and services, as well as information that it shares with networks and other devices.
You may need to locate some of this data, so continue below to learn how to find your MAC address on iPhone 13.
What is My iPhone's MAC Address? – Quick Guide
Launch the Settings app.
Select the General option.
Choose About.
To the right of Wi-Fi Address, look for the MAC address.
Go to the section below for more details on how to determine MAC address on iPhone, including screenshots of this process.
You may need to know how to get the MAC address on an iPhone for a variety of reasons; fortunately, this information is accessible via the device's Settings menu.
Any phone, tablet, or other network-capable gadget will have a MAC address; therefore, you'll be able to locate the MAC address on an iPhone regardless of model.
Your iPhone carries a piece of identification known as a MAC address that allows it to be identified on a network.
Some people employ MAC filtering to regulate access to a wireless network, and if you try to connect to such a network, they will need to know your MAC address in order to enable you to connect.
Fortunately, this information is easily accessible on the iPhone, but it is labeled as something different on the device.
Related: You can read our article about the iPhone phone symbol if you would like to know more about one of the status icons at the top of your screen.
How to Determine an iPhone's MAC Address (Guide with Pictures)
The MAC address (or Media Access Control address) of your iPhone is a unique identifier.
It consists of twelve characters divided into six groups of two. Each pair is referred to as an "octet." Some wireless devices, such as laptops and game consoles, have MAC addresses as well. But you may determine the MAC address for your iPhone by following the procedures below.
These steps will show you how to find your iPhone's MAC address if you realize that you require that information.
Step 1: Choose the Settings option.
Step 2: Go to the General tab.
Step 3: Choose the About option.
This will display a screen with a lot of crucial identifying information about your iPhone.
Step 4: Go to the Wi-Fi Address section.
Your MAC address is represented by the set of 12 characters shown above.
Now that you know how to find your iPhone's MAC address, you'll be able to find it if you need to provide it to someone whose network filters devices.
Summary – How to Find the MAC Address on an iPhone
Open Settings.
Select General.
Choose About.
Find your MAC address next to Wi-Fi Address.
While your iPhone is linked to a network, another piece of information you may need to find is its IP address. You can find it by following these steps:
Go to the Settings menu.
Choose Wi-Fi.
Tap the i to the right of the current network.
Locate the IP address in the table's IP Address row.
iPhone MAC Address – More Details
The MAC address of your iPhone will not change. It is a one-of-a-kind piece of identifying information for the gadget that is tied to it for the duration of its functioning.
The MAC address for any device that has one will be in the same format as the MAC address on your iPhone. Hence, if you needed to determine the MAC address for your iPad, it would look similar to the one for your iPhone.
For many versions of iOS, the process for determining your iPhone's MAC address has remained the same. Even if you have an older iPhone and need this information, it should still be available in Settings > General > About.
If you can't find your Settings app on your Home screen, swipe down from the top of the screen and type "Settings" into the search area.
If you're having trouble connecting to a wireless network, it's possible that the password has changed and you haven't updated your device. Discover how to forget a network on the iPhone 5 so that you can reconnect to it appropriately.
Commonly Asked Questions About Finding My iPhone's MAC Address
Will the MAC address of my iPhone change if I join to another Wi-Fi network?
No, each device has a distinct MAC address.
When you find your wifi MAC address by accessing the About menu in your iPhone's Settings menu and entering the values in the Wi Fi address field, you'll see the same information every time.
Your Wi-Fi MAC address is a hardware address that is used to identify your device and will not change.
This is useful if your Wi-Fi router or network employs MAC filtering or other mechanisms that allow or deny network access based on unique device information.
How can I reset my iPhone's network settings?
If you are having issues connecting to wireless networks or connecting to the Internet, you may need to do some troubleshooting actions.
One usual procedure is to reset the device's network settings.
Go to Settings > General > Transfer or Reset iPhone > Reset > Reset Network Settings to accomplish this.
Because this will reset your Wi-Fi settings, you will need to reconnect to Wi-Fi networks that you need to access, such as those in your home or workplace.
How do I use the iPhone's private address feature?
While we have covered how to view MAC address information in this post, you may have heard about private Wi Fi addresses and wondered how to use them.
You can utilize private addresses while connecting to different Wi-Fi networks on your iPhone, making it more difficult for apps and services to follow you.
Toggle the Private Wi-Fi Address toggle by opening Settings, tapping Wi Fi, and then touching the small blue I next to your wireless network. It also displays that address in the toggling.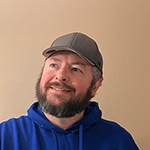 Matt Jacobs has been working as an IT consultant for small businesses since receiving his Master's degree in 2003. While he still does some consulting work, his primary focus now is on creating technology support content for SupportYourTech.com.
His work can be found on many websites and focuses on topics such as Microsoft Office, Apple devices, Android devices, Photoshop, and more.