You may already have some methods that you use when you need to increase the amount of available storage on your MacBook.
This might involve deleting media files like pictures or videos, or it could involve uninstalling some apps.
But there is a fast way that you can remove unnecessary files from the computer, so continue with our tutorial below to learn how to delete the junk files from your MacBook.
How to Get Rid of MacBook Junk Files
Click Launchpad.
Open CleanMyMac.
Click Scan.
Uncheck anything you don't want to remove.
Click Clean.
Our guide continues below with additional information on how to delete the junk files from your MacBook, including pictures of these steps.
Are you running out of room on your MacBook, which is preventing you from downloading new apps, backing up your iPhone, or maybe even installing the newest Mac update?
Or does it feel like the laptop is running a little slower, and you read somewhere that deleting a lot of the unnecessary files from the computer can make it run a little faster?
Removing the junk files from a MacBook is a very common need, and there are a lot of different ways to do it.
You can delete iTunes movies and TV shows that you have already watched, you can delete pictures that you don't need, or move them to an external hard drive, and you can even try emptying the Trash can.
There is no magical set of steps that will help you clear the stuff that you don't need from your MacBook, because everyone uses their computer in a different way.
But there is a simple app called CleanMyMac that can scan all of the areas on your Mac where junk files accumulate and help you get rid of them quickly and easily.
Visit the CleanMyMac website today to read more about the app and download it to your computer. Once you have it, you can follow the steps below to scan and delete the junk files from your Mac.
How to Remove Junk Files from a MacBook (Guide with Pictures)
These steps were performed on a MacBook Air running macOS Sierra.
These steps assume that you have already downloaded CleanMyMac on your computer, as it will be required to complete these steps.
You can click the button below if you have not yet downloaded and installed the application.
Step 1: Click the Launchpad icon at the bottom of your screen.
Step 2: Click the CleanMyMac icon to open the program.
Step 3: Click the Scan button at the bottom of the CleanMyMac window.
The CleanMyMac program will now search through your computer to find the files that it can safely remove to increase your hard drive space. This scan can take a minute or two.
Step 4: Uncheck any of the file options where you don't want to delete junk files, then click the Clean button.
That's it! You have now removed the junk files from your MacBook Air and given yourself some additional storage space.
Download CleanMyMac
How that you know how to delete the junk files from your MacBook, you can use this process periodically so that you aren't wasting precious storage space on your laptop.
The makers of CleanMyMac also have another program called Gemini that you can use to remove duplicate files from your Mac, too. The combination of these programs can really help you to keep your Mac clean, and you get a 30% discount on Gemini if you already have CleanMyMac. You can check out the CleanMyMac and Gemini bundle here.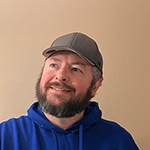 Matt Jacobs has been working as an IT consultant for small businesses since receiving his Master's degree in 2003. While he still does some consulting work, his primary focus now is on creating technology support content for SupportYourTech.com.
His work can be found on many websites and focuses on topics such as Microsoft Office, Apple devices, Android devices, Photoshop, and more.