The steps in this article are going to show you how to display Excel UPC numbers in full, as opposed to the scientific notation that it displays by default.
This setting will only apply to each worksheet for which you make this formatting change. It doesn't carry over to other spreadsheets or new spreadsheets that you create.
This formatting change that we are making is incredibly useful for making your information display properly in Excel. There are options for currency, text, and you can create custom values if you want to display leading zeroes in numbers as well.
This guide assumes that the UPC numbers you want to show in full start with a number other than zero. If they do start with a zero, then you will need to choose the "Custom" option, then enter a number of zeroes in the "Type" field equal to the number of zeroes in the UPC number.
Storing product information in Microsoft Excel typically involves things like product names, prices, and inventory.
But it can often include UPC numbers as well. However, you have probably found that Excel tends to display these numbers in a format like 1.23456E+11, which can be problematic if you need to view those numbers frequently, or print them out.
Fortunately this is a problem that you can fix, as it is related to a simple formatting issue.
Our tutorial below will show you how to select and format a range of cells in Microsoft Excel so that you can display Excel UPC numbers so that all of their digits are visible.
The steps in this guide were performed in Microsoft Excel for Office 365, but will work in most other versions of Excel as well.
How to Show Excel UPC Numbers in Full
Step 1: Open the file in Excel.
Step 2: Select the cells containing the UPC numbers.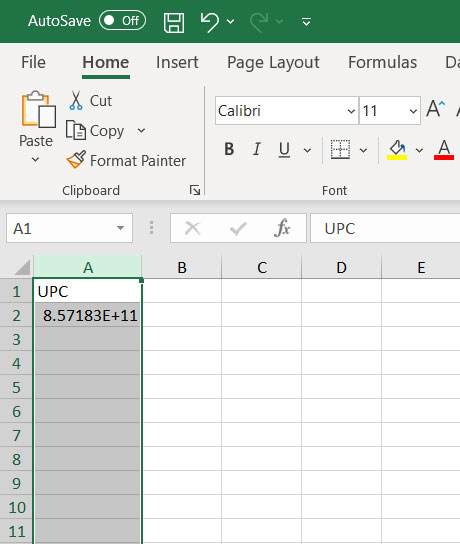 Step 3: Right-click on a selected cell, then choose Format Cells.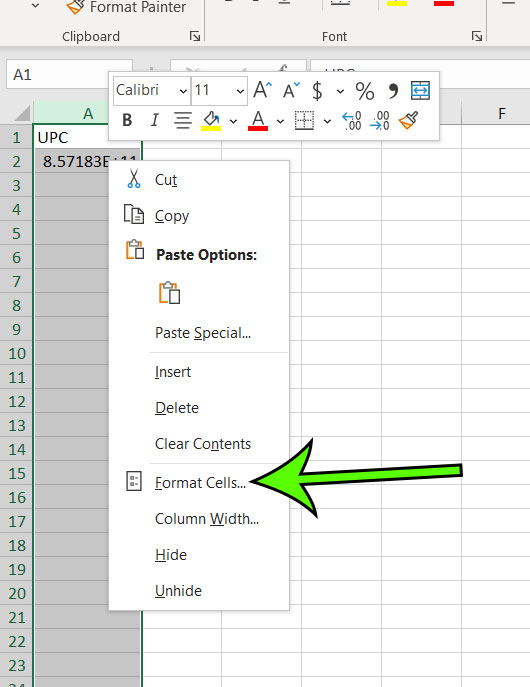 Step 4: Click the Number option in the left column, change the Decimal places value to "0", then click the OK button.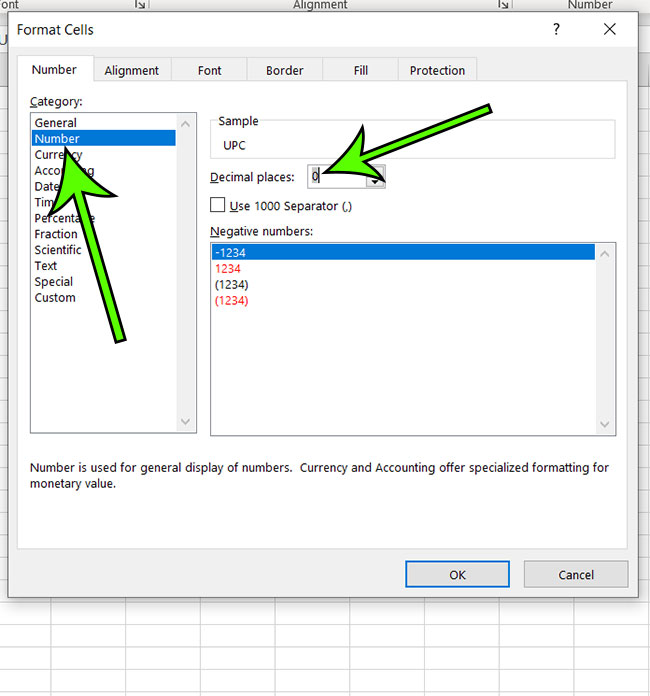 You can select an entire row by clicking the row number at the left side of the spreadsheet, or you can select an entire column by clicking the column letter at the top of the spreadsheet.
You can select the entire spreadsheet by clicking the gray button above the row 1 heading and to the left of the column A heading.
As mentioned previously, you may need to use a different method if your UPC numbers start with a zero. Note that you will need to know how many digits are in the UPC numbers to complete this method.
How to Show Leading Zeroes in Excel
Select the cells with the UPC numbers.
Right-click a selected cell, then choose Format Cells.
Select Custom at the left side of the window.
Click inside the Type field and add a number of zeroes equal to the number of digits in the UPC number.
Click the OK button.
Find out how to make gridlines darker in Excel if you are having trouble viewing the lines around the cells in your spreadsheet.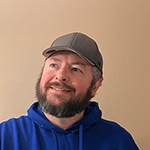 Matt Jacobs has been working as an IT consultant for small businesses since receiving his Master's degree in 2003. While he still does some consulting work, his primary focus now is on creating technology support content for SupportYourTech.com.
His work can be found on many websites and focuses on topics such as Microsoft Office, Apple devices, Android devices, Photoshop, and more.