Many popular communications tools continue to add more and more features so that their users can perform as much of their interaction in one place as possible. The Gmail app is no different, and many of these tools can be found in the Gmail sidebar at the left side of the window.
When you set up a Google account to use Gmail, you gain access to a variety of other tools and services that Google offers. One of these is a Google chat feature that's embedded into your Gmail interface.
While the chat feature can be useful, it's also susceptible to spam. Additionally, it takes up some extra space at the left side of the window, This combination of distractions, especially if you don't use the chat feature, can lead you to look for a way to remove the chat feature from your Gmail inbox.
How to Remove Chat from Gmail
Sign into Gmail.
Click the gear icon.
Choose See all settings.
Select the Chat and Meet tab.
Choose Off to the right of Chat.
Click Save Changes.
Our guide continues below with additional information on turning off chat in Gmail, including pictures of these steps.
How to Disable Gmail Chat (Guide with Pictures)
The steps in this article are for the current version of Gmail as of this article's update on October 28, 2021. Occasionally Google will make some minor changes to the layout of its app, but the chat setting has essentially been in the same place for a while.
Step 1: Sign in to your Gmail account on a laptop or desktop computer.
Step 2: Select the gear icon at the top-right corner of the inbox.
Step 3: Choose See all settings from the drop down menu.
Step 4: Click the Chat and Meet tab at the top of the menu.
Step 5; Select the circle to the left of Off in the Chat section of the menu.
Step 6: Click the Save Changes button at the bottom of the menu to apply the change.
Our guide continues below with more about removing Chat from Gmail. You will be able to turn chat on or off as needed, and you can also configure Google Meet from the Chat and Meet menu as well.
How to Remove the Chat Section from Gmail (Old method)
The steps in this article were performed in an older version of the desktop Gmail application in the Google Chrome Web browser. The setting that we will be adjusting in this section will persist across Gmail when you open it in other browsers, or on different computers.
Step 1: Navigate to your Gmail account at https://mail.google.com and sign in if you haven't already.
Step 2: Select the gear icon at the top-right of the window, then choose the Settings option.
Step 3: Choose the Chat tab at the top of the menu.
Step 4: Select the Chat off option, then click the Save Changes button.
Note that there are a number of other settings on this menu that you can adjust to improve your experience with Gmail.
More Information on How to Turn Off Chat in Gmail
This chat feature is one that is popular in school or workplace environments. In fact, it's possible that it is a preferred form of communication in those environments. if you are someone who is using a Google account in one of these situations then it's possible that you won't be able to disable this feature, or that it might not be a good idea.
When you open the Chat and Meet section of the Gmail settings menu you will see not only the Chat section but also an option for Chat position and an option for Meet. These are:
Chat Position
Left side of the inbox
Right side of the inbox
Meet
Show the Meet section in the main menu
Hide the Meet section in the main menu
If you are already choosing to turn off Gmail's chat feature then it probably doesn't matter where it is on the screen. But, regardless, you can choose between the left and right side of the screen.
The "Meet" option is something that Google users can utilize to start video conference calls, much like Microsoft Teams or Zoom.
You may have noticed that the Chat option on the settings menu had a few options other than just on or off. These include:
Google Chat
Classic Hangouts
Off
Google Hangouts chat is another communication option that Google users can utilize to communicate with other individuals or groups (although it is going away soon and merging with Google Chat.) There are not separate settings for Chat or Hangouts in the Gmail settings menu, but you can currently elect to use either the Chat option or the Hangouts option if you want to keep a chat option enabled for your Gmail inbox.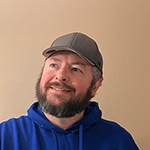 Matt Jacobs has been working as an IT consultant for small businesses since receiving his Master's degree in 2003. While he still does some consulting work, his primary focus now is on creating technology support content for SupportYourTech.com.
His work can be found on many websites and focuses on topics such as Microsoft Office, Apple devices, Android devices, Photoshop, and more.