The gridlines in a spreadsheet are an important element when it comes to reading and separating data. If you don't have gridlines then the data can run together, making it difficult to edit or evaluate.
Luckily you have a couple of different options if your Google Sheets lines disappeared. We will even discuss an alternate scenario that might arise if you try to restore the gridlines and it doesn't work.
How to Show Gridlines in Google Sheets
Open the Google Sheets file.
Select the View tab.
Click the Gridlines option.
Our guide continues below with additional information on how to fix it if your Google Sheets lines disappeared, including pictures of these steps.
If you are having trouble with your video streaming, then our guide on how to reset an Amazon Fire Stick can help to resolve some of those problems.
When you create a new, blank spreadsheet in Google Sheets there are visible lines that separate each of the individual cells in the spreadsheet.
These are called gridlines, and they can be very useful in providing a barrier that makes it easier to tell where one cell ends and another begins.
But those gridlines are not a permanent fixture of the spreadsheet, and they can be hidden.
If you are collaborating with someone else or working on a file that was created by someone else and you don't see gridlines, then it's possible to get them back. Our guide below will show you where to find that setting.
If some of your cells have shading that you don't want, then our guide on how to unhighlight a cell in Google Sheets can show you how to fix it.
How to Restore Gridlines to View in Google Sheets (guide with Pictures)
The steps in this article were performed in the desktop version of Google Chrome but will also work in other desktop browsers like Edge or Firefox.
Step 1: Sign into your Google Drive and open the Sheets file with the hidden gridlines.
Step 2: Select the View tab at the top of the window.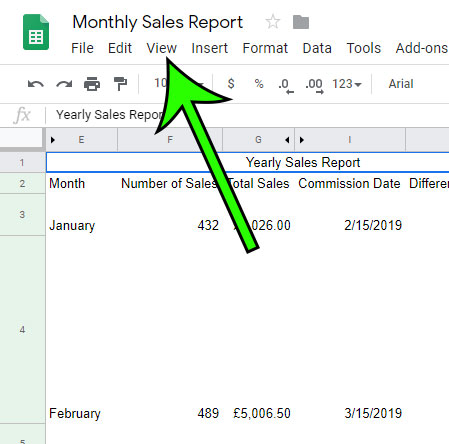 Step 3: Click the Gridlines option to restore gridlines to view.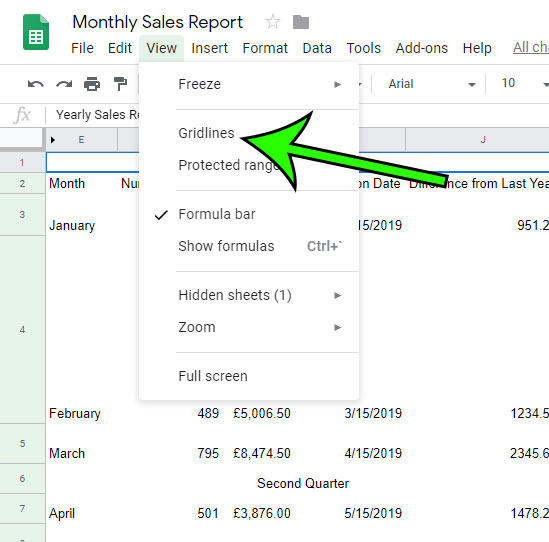 Now that you know how to fix it when Google Sheets lines disappeared, you should be able ot see them in your spreadsheet.
If this doesn't work, then it's possible that someone has applied a white border to all of the cells in the spreadsheet. We will discuss the steps that you need to take in order to resolve this issue instead.
How to Remove a White Cell Border in Google Sheets
While the gridlines are useful in many situations and you have been learning how to restore them to view in our guide above, some people will need to remove them from their spreadsheets instead.
If they were confused about the difference between gridlines and borders, or couldn't find the gridlines option, then they might have chosen to use a white border on the cells instead.
This effectively hides the gridlines, but it requires a different method if you want to see your spreadsheet lines.
You can remove this white border by clicking the gray button at the top-left corner of the spreadsheet to select the entire spreadsheet.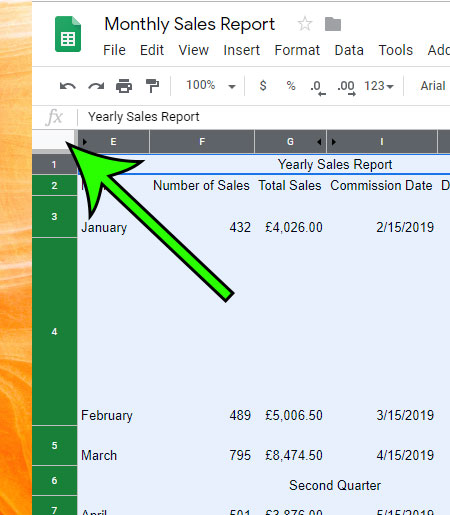 Then clicking the Borders button above the spreadsheet.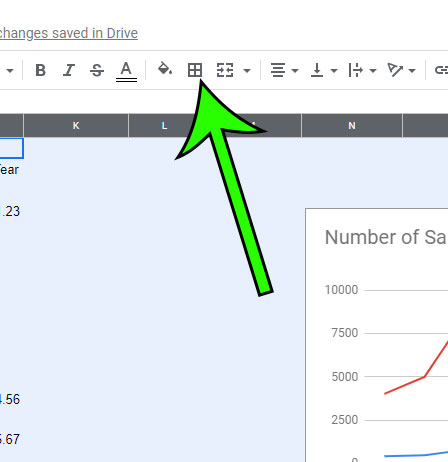 Then choosing the No borders option.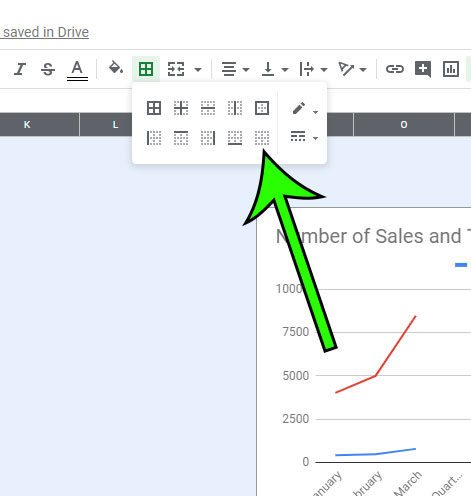 Is there a row of data in your spreadsheet that you don't want to delete, but you don't want people to see it? Find out how to hide a row in Google Sheets and remove the cells in that row from view.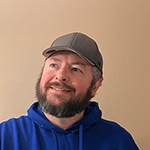 Matt Jacobs has been working as an IT consultant for small businesses since receiving his Master's degree in 2003. While he still does some consulting work, his primary focus now is on creating technology support content for SupportYourTech.com.
His work can be found on many websites and focuses on topics such as Microsoft Office, Apple devices, Android devices, Photoshop, and more.