The steps in this article are going to show you how to disable the slide to type option for your iPhone 11 keyboard.
Turning off slide to type on your iPhone keyboard won't affect other elements of the keyboard.
The same menu where we go to change this setting contains some other helpful keyboard settings, including auto-correct, caps lock, dictation and more.
If you change your mind later and decide that you would like to continue using the slide to type keyboard you can always return to this menu and re-enable it.
Your iPhone 11 keyboard has an option that lets you type by simply sliding your finger between letters on the keyboard.
Many iPhone users find this to be a much faster way to type, and there are many who loved when this feature was finally brought to the iOS operating system.
However, you may find that the slide to type feature negatively impacts the way that you type, and that you sometimes trigger it accidentally.
If the slide to type iPhone keyboard is causing you problems, it's possible to disable it. Our guide below will show you where to find this setting.
You can also read our article about how to turn off flash notification on iPhone if you would like to learn about a special type of notification on the device.
How to Turn Off the Slide to Type Keyboard on an iPhone
The steps in this article were performed on an iPhone 11 in iOS 13.4.1. This slide to type setting only affects the default iPhone keyboard. If you use another third-party keyboard app and wish to disable slide to type there, you will need to change the setting for that keyboard as well.
Step 1: Open the Settings app.
Step 2: Choose the General option.
Step 3: Touch the Keyboard button.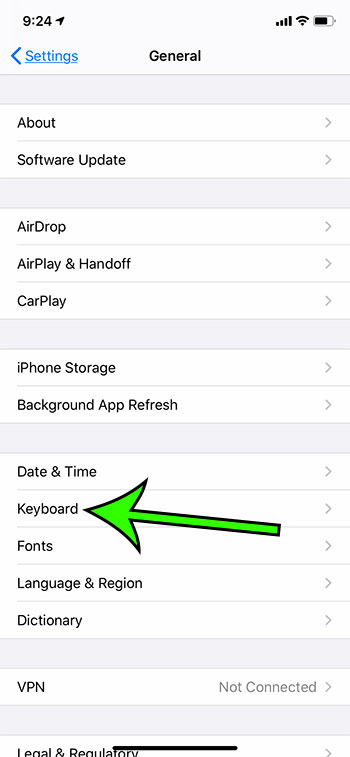 Step 4: Scroll down and tap the button to the right of Slide to Type to turn it off.
Now that you know how to disable slide to type on an iPhone, you can turn off this setting if it is causing you to make mistakes while you are typing.
Find out how to turn off keyboard clicks on the iPhone keyboard if you don't like to hear the sound when you are typing messages or emails.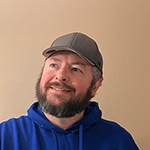 Matt Jacobs has been working as an IT consultant for small businesses since receiving his Master's degree in 2003. While he still does some consulting work, his primary focus now is on creating technology support content for SupportYourTech.com.
His work can be found on many websites and focuses on topics such as Microsoft Office, Apple devices, Android devices, Photoshop, and more.