Recording your iPhone 14 screen is straightforward. Ensure Screen Recording is added to Control Center, start recording via the Control Center, edit and share directly from the Photos app. Be mindful of storage, battery life, and privacy when recording.
Check out this video about recording your iPhone 14 screen for more on this topic.
Recording the screen on your iPhone 14 can open up a whole new world of possibilities, whether you're wanting to share a gaming achievement, create a tutorial, or save a memorable conversation. Don't worry, the process is pretty straightforward, and in no time, you'll be recording like a pro!
Getting Started with Screen Recording
Before you dive into screen recording, you'll want to ensure that the Screen Recording feature is accessible from your Control Center. This is your command center for quickly adjusting settings and controls. To add Screen Recording to the Control Center, follow these steps:
Open the "Settings" app on your iPhone 14.
Scroll down and tap on "Control Center."
Find "Screen Recording" in the list and tap the green plus (+) button next to it.
Voila! You've just added the Screen Recording button to your Control Center. Easy, right?
Related: How to Use the Screen Recorder on iPhone 13
How to Record Your Screen
Now that you've got everything set up, let's get down to business. To start recording your iPhone 14 screen, follow these steps:
Swipe down from the top-right corner of your screen to access the Control Center.
Look for the Screen Recording icon—it looks like a solid circle inside another circle.
Press and hold the Screen Recording icon.
After a brief moment, a menu will pop up. Here, you can select where you want to save your recording and if you want to record audio from your microphone.
Tap on "Start Recording," and there will be a three-second countdown before the recording begins.
And just like that, you're recording! Everything you do on your screen from this point on will be captured.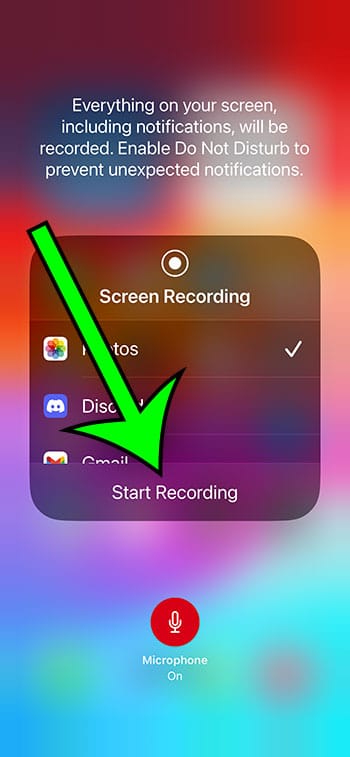 Stopping the Screen Recording
When you've captured everything you need, stopping the recording is just as easy as starting it. Here's how:
Open the Control Center again.
Tap the Screen Recording icon, and your recording will stop.
Alternatively, you can also tap the red status bar at the top of your screen and select "Stop" from the pop-up menu.
Where to Find Your Screen Recording
Once you've stopped recording, you might be wondering, "Where did my video go?" Don't worry, it's easy to find! Your screen recording will be saved directly to your Photos app, ready for you to view, edit, or share.
Editing and Sharing Your Screen Recording
Got your recording, but need to make some tweaks? The Photos app has built-in editing tools that let you trim your video to perfection. And when you're ready to share, you can do that directly from the Photos app as well, via message, mail, or social media.
Pros of Screen Recording on iPhone 14
Capture Anything: From gaming achievements to app tutorials, if it's on your screen, you can record it.
Simple and Accessible: The process is easy and everything you need is right at your fingertips.
Instant Sharing: Ready to show the world? Share your recording directly from the Photos app.
Cons of Screen Recording on iPhone 14
Storage Space: Videos take up a lot of space, so frequent recordings can fill up your storage quickly.
Potential for Overuse: With great power comes great responsibility. Be mindful of what you're recording and sharing.
Battery Drain: Screen recording can be a battery drainer, so keep an eye on your battery life.
Video About iPhone 14 Screen Recording
Additional Information
Recording with Sound: Want to add commentary or capture in-app sounds? Don't forget to turn on your microphone before you start recording.
Privacy Matters: Be mindful of personal information on your screen when recording, especially if you plan on sharing the video.
Conclusion
Screen recording on your iPhone 14 is a game-changer for capturing and sharing content directly from your device. With just a few taps, you can record anything on your screen, make edits, and share with the world. Just remember to be mindful of storage space, battery life, and most importantly, privacy.
FAQs
Q1: Can I record a specific part of my screen? No, the screen recording feature captures everything on your screen.
Q2: Can I record phone calls with screen recording? No, screen recording does not capture audio from phone calls for privacy reasons.
Q3: Is there a time limit for screen recordings? The only limitation is the available storage space on your device.
Q4: Can I use screen recording while using other apps? Yes, screen recording works in the background while you use other apps.
Q5: Can I add commentary to my screen recording? Yes, simply turn on the microphone before you start recording.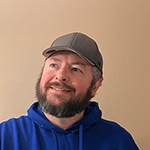 Matt Jacobs has been working as an IT consultant for small businesses since receiving his Master's degree in 2003. While he still does some consulting work, his primary focus now is on creating technology support content for SupportYourTech.com.
His work can be found on many websites and focuses on topics such as Microsoft Office, Apple devices, Android devices, Photoshop, and more.