You can enable the iMessage feature on your iPhone 14 by going to Settings > Messages > then tapping the button to the right of iMessage to enable it.
Our guide continues below with additional information about using the iMessage feature on an iPhone 14.
You can also watch this video about how to turn on iMessage on iPhone 14 for more on this topic.
Alright, let's dive right into the wonderful world of iMessage. So, you've got that shiny new iPhone 14, huh? Gorgeous, isn't it? But now, you're wondering how to get iMessage up and running. Don't fret, my tech-savvy friend, I've got you covered. By the end of this chat, you'll be sending those blue bubble messages like a pro.
How to Enable the iPhone 14 iMessage Setting
The steps in this section were performed on an iPhone 14 Plus in the iOS 17 operating system.
These steps will also work in many other versions of iOS and on many other iPhone models, including the following:
iPhone 14
iPhone 14 Pro
iPhone 14 Pro Max
Step 1: Open the Settings app.
Step 2: Scroll down and choose the Messages option.
Step 3: Tap the button to the right of iMessage to enable it.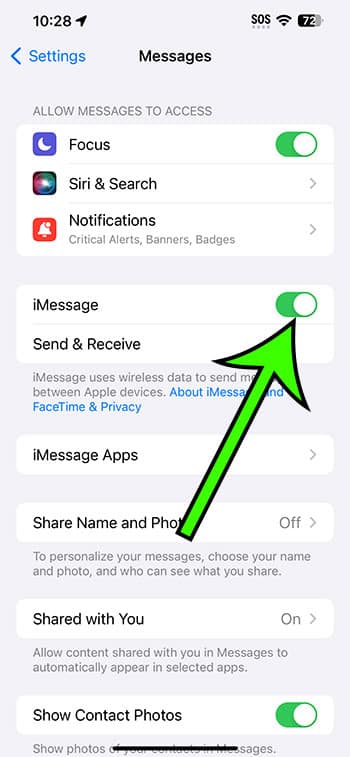 Now that you know how to turn on the iMessage feature on your iPhone, you will be able to use this helpful method of communication with other fellow Apple device users.
Starting with the Basics: What is iMessage?
Before we jump in, for those who might not be in the know, iMessage is Apple's messaging service that lets users send texts, photos, videos, and so much more over Wi-Fi or cellular data. It's exclusive to Apple devices. When you're messaging someone and see those blue bubbles, that's iMessage in action. If they're green, it's a regular SMS text. But today, we're focusing on the blue.
Getting Started with iMessage
Wi-Fi or Cellular Data
To get iMessage working, make sure your iPhone 14 is connected to Wi-Fi or you've got a good cellular data connection. Remember, no connection, no iMessage. Basic, but important.
Dive into Settings
Once you're connected, tap that silver 'Settings' app. You know the one – it looks like a gear and is probably somewhere on your home screen. Scroll down a bit and you'll find 'Messages.' That's our destination!
Toggle it On
After you've clicked on 'Messages', you'll see the first option saying 'iMessage'. There's a toggle right next to it. If it's grayed out, that means it's off. Tap that toggle. If it turns green, congratulations, you've just activated iMessage!
The Waiting Game
Now, for a moment after you toggle iMessage on, you might see a little message below saying "Waiting for activation." Don't panic. It's just the system working its magic, verifying your number and getting things set up. It can take a few moments, so grab a cup of coffee, do a little dance, whatever floats your boat.
Sending & Receiving with Your Phone Number or Email
Here's where it gets interesting. Under the 'iMessage' toggle, you'll notice 'Send & Receive.' Click on that. Here, you can choose whether you want to send and receive iMessages with just your phone number, just your email, or both.
For the best experience, I'd recommend ticking both your number and your email. This way, no matter how someone tries to reach you, they'll hit the mark.
iMessage Effects and Features
Since you're new to the iMessage club, here's a fun fact: You can send messages with effects like "Slam," "Loud," or even with invisible ink. Simply type your message, then press and hold the blue send button. You'll be presented with a plethora of cool effects. Play around and have fun!
Troubleshooting 101
In the rare instance where iMessage doesn't activate immediately or you're facing some hiccups, here's what you do:
Ensure you're connected to Wi-Fi or cellular data.
Restart your iPhone. A good ol' off-and-on does wonders.
Go back into 'Settings', 'Messages', and toggle iMessage off and then on again.
If all else fails, reach out to your carrier. Sometimes, they need to enable certain features on their end.
The World Beyond iMessage
Once you've got iMessage down, explore other features like FaceTime, Apple Pay Cash, and Animoji/Memoji. Apple's ecosystem is vast and filled with delightful tricks. Dive in!
Video About Enabling iMessage
Conclusion
Alright, future iMessage expert, that's the gist of it. Simple, right? With your iPhone 14 now armed and ready, you're all set to dive into the world of seamless messaging. Remember, with great power (and a fantastic messaging service) comes great responsibility. Use iMessage wisely, and most importantly, have fun with it!
Cheers and happy texting!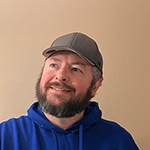 Matt Jacobs has been working as an IT consultant for small businesses since receiving his Master's degree in 2003. While he still does some consulting work, his primary focus now is on creating technology support content for SupportYourTech.com.
His work can be found on many websites and focuses on topics such as Microsoft Office, Apple devices, Android devices, Photoshop, and more.