The steps in this guide are going to show you how to change the read receipt setting on your iPhone. We will cover the steps at the beginning of this article, then continue below with more information and pictures for the steps.
If you've ever seen an iMessage's "Delivered" notification, then you might be curious what it meant. Especially because it doesn't appear in every iMessage or text message that you send from your iPhone or iPad.
That indicator in your Messages app is letting you know that your message has been received by a device. However, that may not even mean that it has been received on the recipient's Phone, or even that they are anywhere near a device so that they can see what you have sent. You will know that the message has been read when that message changes from "Delivered" to "Read."
However, this assumes that the recipient has read receipts enabled, which they may not. A lot of iPhone users elect not to send read receipts, as they would prefer that others don't know if or when they have read an iMessage or text message.
How to Turn Read Receipts On or Off on an iPhone
Open the Settings app.
Scroll down and choose the Messages option.
Toggle the Enable Read Receipts option on or off.
Our guide continues with more information on the iPhone read receipt, as well as more about what it means if a message says delivered on iPhone, and the answer to the question of what does delivered mean on iPhone.
Related: You can read this text message article if you are wondering why some of your iMessages sometimes get sent as text messages instead.
How to Toggle Read Receipts on an iPhone (Guide with Pictures)
The steps in this article were performed on an iPhone 7 Plus in iOS 12.3.1. Note that turning off read receipts on your iPhone will mean that others aren't able to tell when you have read their text in your Messages app. However, you will still be able to see the read receipts for the recipient's device if they have enabled them on their iPhone.
These steps will show you how to adjust the setting that lets other people know whether or not you have read a text message on your iPhone.
Step 1: Open the Settings app.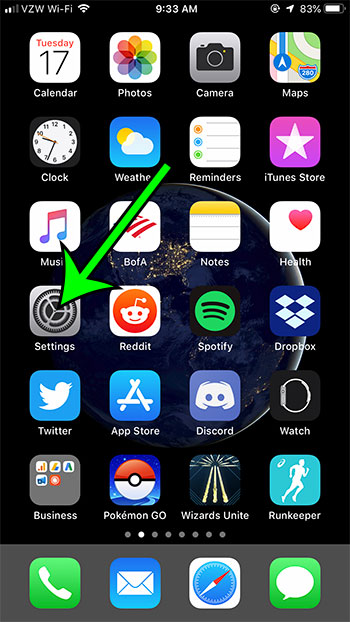 Tap the Settings icon.
Step 2: Scroll down and tap the Messages option.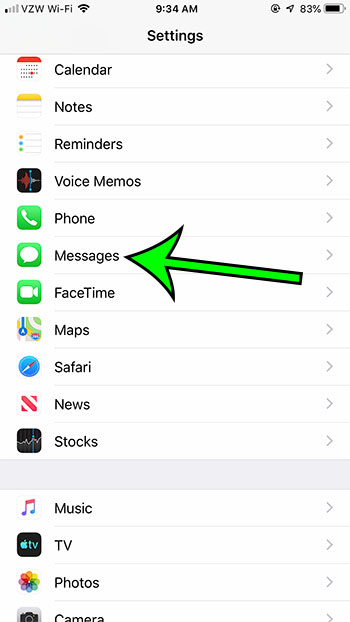 Open the settings menu for the Messages app.
Step 3: Tap the button to the right of Send Read Receipts to turn it on or off.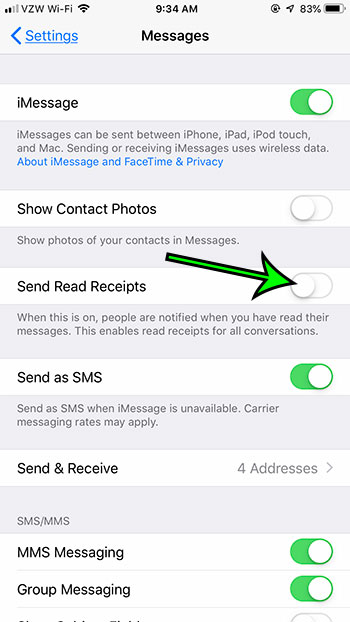 Toggle the Send Read Receipts option on or off as desired.
I have disabled read receipts in the picture above.
Now that you know where to find the read receipt option on your iPhone you will be able to decide whether or not other people will be able to see if you have read a message that they have sent to you.
Video About iPhone Read Receipts
More About iPhone Read Receipts
These steps will work on other Apple devices, such as the iPad or iPod Touch, and on other iPhone models, such as the iPhone 11.
If someone is signed into more than one iOS device with their Apple ID, and your message is received by any of those devices, then it can show the "Delivered" message. As mentioned above, the appearance of the "Delivered" message is not an indication that the recipient has seen the message or is aware that it has arrived.
Many third party apps, both on Android and iOS, have the ability to send these read receipt messages. For example, WhatsApp is a very popular messaging service that offers it, as does the Google Messages app that you may have on your Android device.
If you are sending someone an iMessage and the message delivery notification doesn't appear, then it's possible that you or they have a weak internet connection, or that one of your devices is in Airplane Mode.
The messaging app can update with a Delivered indicator even if the device was received on a MacBook, provided that the computer is signed into the same Apple ID to which the message was sent.
Android devices and Apple products can both let you know that the person received the message on a device if it shows delivered after sending iMessages or text messages.
Frequently Asked Questions About iPhone Delivered vs Read
What is the delivered meaning in text messages on an iPhone?
When you send a text message or an iMessage from your iPhone and you see the word "Delivered" under it, that means that a device that is able to accept messages for the phone number or email address has received your message.
Delivered means that the entire message was received by a phone number that has text messaging capabilities.
If a text says delivered, has it been read?
No, a delivery message does not mean that the recipient contact has seen or read the message. It just means that you sent the message to a device that is able to receive SMS text messages or iMessages.
What does it mean when an iPhone message says delivered?
This means that a phone, tablet, computer, or other device has accepted the message you sent. For example, if you sent a message to a landline phone or a fax machine, you probably wouldn't see that "delivered" message because it is incompatible with SMS messaging.
Why are iMessages not delivering?
If your iMessages aren't delivering it is useful to check whether or not they aren't delivering for all of your contacts, or just one of them.
If it's not working for one contact but for everyone else, then it's something with that person specifically.
If you can't send iMessage to anyone, then it may be something with your phone. You can try restarting the phone, switching between WiFi and cellular, or toggling the iMessage option off and then on in the Settings > Messages menu.
What does !! mean on iPhone?
If you see !! at the top-right corner of a message then it means someone has reacted to the message. You can add a reaction by tapping and holding on an iMessage, then selecting one of the reactions, such as that double exclamation point.
If iMessage doesn't say delivered, did they receive it?
If you don't see the word "delivered" under the last iMessage that you sent, then that person has not received it yet.
There could be a problem with the iMessage service (in which case it may try and send as a text message instead), or their phone might just not be able to receive messages right now.
If someone has no service will iMessage say delivered?
No, an iMessage will not say delivered if the recipient doesn't have service. It may attempt to keep delivering until they do have service, or it might send as a text message instead.
If someone's phone dies, does it say delivered?
No, the iMessage will not say that it was delivered if the phone died, or if it's turned off. The phone must be on, have service, and be able to receive iMessages in order for an iMessage to say delivered.
When I send messages from my iPhone, will I always see the message delivered notification if the text sent correctly?
Yes, assuming that the service provider was able to accept the message, and there was no message failed notification or a problem with Apple's iMessage servers, then you should see a delivered notification when it reaches the target recipient.
Do you need to find out your iPhone's IP address? Learn where to locate that information if you are performing some troubleshooting steps, or if you are simply curious about what it might be.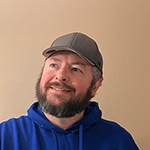 Matt Jacobs has been working as an IT consultant for small businesses since receiving his Master's degree in 2003. While he still does some consulting work, his primary focus now is on creating technology support content for SupportYourTech.com.
His work can be found on many websites and focuses on topics such as Microsoft Office, Apple devices, Android devices, Photoshop, and more.