On your iPhone, you can enable read receipts to notify people that you have read their text messages.
You may object to people knowing this information and ask if there is a method to prevent it from happening.
Our lesson on how to turn off read receipts on an iPhone 13 continues below with further information on the subject.
You can also check out this YouTube video for more on disabling iPhone read receipts.
How to Disable Read Receipts on an iPhone 13
Go to Settings.
Select Messages.
Turn off Send Read Receipts.
Our explanation continues below with more information on turning off iPhone read receipts, including screenshots.
Have you ever seen the word "Read" appear beneath a text message delivered to you? If you don't enjoy seeing it, you might be interested in learning how to turn off read receipts on an iPhone 13.
This occurs because you opened and read the text message discussion on your iPhone 13. It appears similarly to the "delivered" message you may also see at times.
But that isn't required, and it is controlled by a "read receipt" setting on the device.
You may turn off read receipts on the iPhone 13 by navigating to Settings > Messages > and pressing the option next to Send Read Receipts.
Once you've stopped receiving these read receipts, you can view the messages you receive without worrying that the sender already knows you've seen them.
This not only provides you some time to think about the appropriate response, but it also gives you some privacy regarding your participation in the conversation.
Our lesson continues below with further information regarding the iPhone 13 Messages app settings.
If you have an image in a text message exchange that you don't want anyone else to view if they have your phone, you should delete it. For additional details, see our tutorial on how to erase photographs from text message chats on an iPhone.
How to Remove "Read" From iPhone Text Messages (With Pictures)
The actions in this post were carried out using an iPhone 13 running iOS 15.4.1.
Step 1: Open your device's Settings app.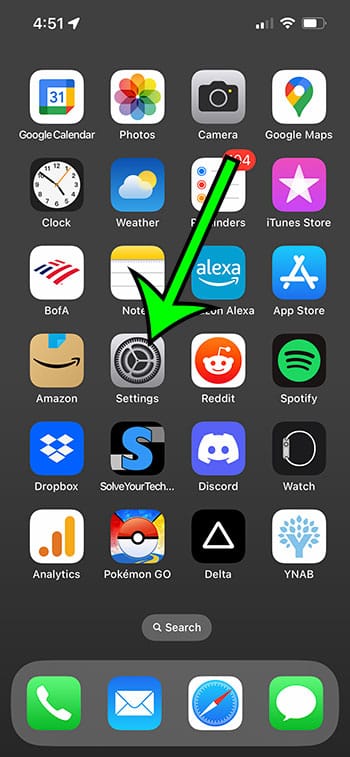 Step 2: Scroll down to the Messages section and select it.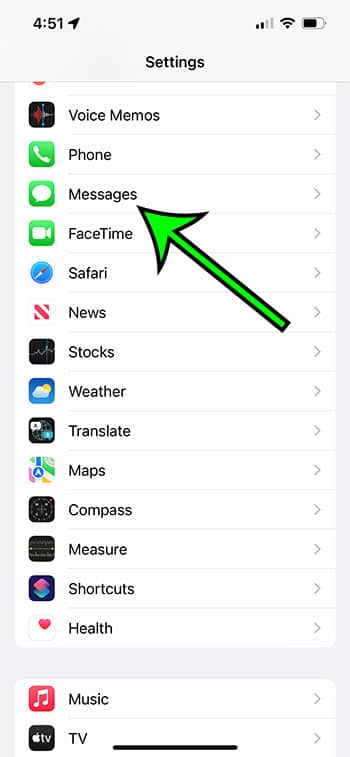 Step 3: Deactivate the Send Read Receipts option.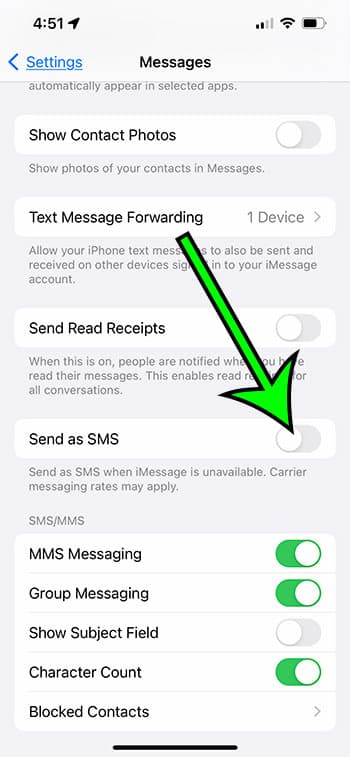 You might be interested in some of the other settings for the Messages app on your iPhone 13 now that you know how to turn off read receipts.
Our advice continues below with more information on how to disable text message read receipts on an iPhone.
More Details on iPhone 13 Read Receipts
The instructions in this post will prevent others from seeing that you have read a text message or iMessage that they have sent to you. You will, however, be able to check whether they have read text messages you send to them unless they have also disabled read receipts.
If you dislike the default Messages app on your iPhone, you might want to consider a third-party alternative. Whatsapp is a popular text messaging service that you could test.
This only affects the "Messages" app by default. This has no bearing on read receipts or equivalent functionality in other apps.
If you haven't visited the Message settings menu before, there are definitely some things you'd like to modify. Among these alternatives are:
"Share Name and Photo" – this is the bar that appears at the top of a chat and allows you to choose whether or not to share your photo and name with the other person in the conversation.
Show Contact Photos" – controls whether a contact's picture appears next to their chat if you have one set for that contact.
"Send as SMS" – if an iMessage cannot be sent for some reason, this option will use the conventional text messaging service as a fallback.
Keep Messages" – You can opt to keep your text messages until you manually delete them, or to have your iPhone delete them after a set length of time.
"Low Quality Image Mode" enables you to send images at a reduced resolution, consuming less data.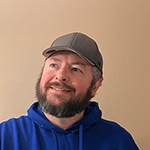 Matt Jacobs has been working as an IT consultant for small businesses since receiving his Master's degree in 2003. While he still does some consulting work, his primary focus now is on creating technology support content for SupportYourTech.com.
His work can be found on many websites and focuses on topics such as Microsoft Office, Apple devices, Android devices, Photoshop, and more.