On your iPhone 14, you can stop read receipts by heading to Settings > Messages and unchecking the Send Read Receipts option.
Our explanation continues below with more information on how to turn off iPhone read receipts, as well as screenshots of these methods.
Watch this video on how to disable read receipts on an iPhone 14 for more information.
How to Turn Off iPhone 14 Read Receipts
The procedures in this post were carried out using an iPhone 14 Plus running iOS 17.
The majority of iPhone models, as well as the most recent versions of iOS, can use these steps, which include the following:
iPhone 14
iPhone 14 Pro
iPhone 14 Pro Max
Step 1: On your Home screen, locate the Settings app icon and tap it to open the menu.
Step 2: Scroll down to and choose the Messages section.
Step 3: Toggle off Send Read Receipts by tapping the button to the right of it.
If there is no green shade around the button, your read receipts are disabled. In the image below, I've disabled read receipts.
You can prevent others from seeing that you have read a message they sent you now that you know how to turn off read receipts on iPhone 14.
This has no influence on your ability to determine whether or not other individuals have seen a text message you send them. This is determined by whether or not the person has enabled read receipts on their device.
iPhone Read Receipts Video
Summary – On an iPhone, How to Hide the Fact That You Read Their Text Messages 14
Go to the Settings menu.
Navigate to Messages.
Disable Send Read Receipts.
Related: How to Delete Text Messages from Your iPhone 14
Conclusion
When I first set up my iPhone, one of the first things I do is turn off the read receipt option.
The small "Read" indicator that appears beneath a text message when it has been read can be useful in knowing that your message has been viewed, but it can also lead people to question why you haven't answered.
This is especially problematic if you don't always react to text messages straight away or if a particular chat topic requires more thought before answering.
Our tutorial on how to disable read receipts on iPhone 14 has given you the information you need to disable this setting so that people do not know when you receive and read a text message or an iMessage.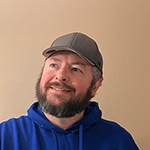 Matt Jacobs has been working as an IT consultant for small businesses since receiving his Master's degree in 2003. While he still does some consulting work, his primary focus now is on creating technology support content for SupportYourTech.com.
His work can be found on many websites and focuses on topics such as Microsoft Office, Apple devices, Android devices, Photoshop, and more.