Bookmarks can be a helpful way to manage the data in your browser, but it can become difficult to navigate them if you have too many, or if you no longer use a specific bookmark.
The steps in this guide are going to show you how to delete bookmarks in Google Chrome.
The beginning of the article will provide a brief overview of the process for deleting Chrome bookmarks, and then we will dive into additional information and provide pictures for each of the steps.
Open the Google Chrome menu.
Select the Bookmarks option, then click Bookmark manager.
Select a folder at the left side of the window.
Right-click on a bookmark to delete, then select the Delete option.
Most of the popular Web browsers that you will use on your phone or computer provide multiple options for managing your data. You may have ways to block websites or pop-ups, or methods for saving and viewing a saved password in Chrome or Firefox.
Almost any modern Web browser that I use, whether it's on my computer or my mobile device, provides me with some type of bookmarks manager. This tool gives you the ability to save Web pages to your browser, often by just clicking a button in the address bar.
The Google Chrome desktop Web browser has such a feature, even providing some options like a bookmarks bar and the ability to create a bookmark folder where you can sort your bookmarks into different categories. But as you use the feature more and more, those bookmarks can become difficult to manage. Our tutorial below is going to show you how to delete bookmarks in Google Chrome if you've accumulated a lot of bookmarks that you don't need anymore.
How to Remove Bookmarks in Google Chrome
The steps in this article were performed in the desktop version of the Google Chrome browser. Other browsers, like Firefox, also give you a way to delete bookmarks, although the method in those browsers is a little different.
Step 1: Click the Customize and control Google Chrome menu button at the top-right corner of the window.
Step 2: Hover over the Bookmarks option, then click Bookmark manager.
Step 3: Select the bookmark folder at the left side of the window that contains the bookmark you wish to delete.
Step 4: Right-click on the bookmark, then select the Delete option.
Alternatively you can click the three dots at the right side of the bookmark row and select Delete from there as well.
Now that you know how to delete bookmarks from Google Chrome, you will be able to remove any of them from the browser that you no longer want or need to access.
Additional Information on Delete Bookmarks in Google Chrome
If your Google Account is configured to share bookmarks across devices, then any bookmark deleted from one computer will also be deleted on other devices that are signed into your Google Account. Shared information in your Google Account is frequently syncing to the cloud and across your devices, which includes the list of bookmarks in your Chrome browser.
You can use a similar method to delete an entire Bookmarks folder as well. Simply right-click on that folder at the left side of the window, then choose Delete to delete the folder and all of the bookmarks contained within it.
There is a brief window after you have deleted a bookmarked page where you have the ability to undo the deletion. A pop-up window will appear at the bottom-left corner of the window where you can click on the Undo option to restore the deleted bookmark or bookmark folder.
Accidentally entered full screen mode in Chrome and you can't get out? Find out how to exit full screen in Chrome and make it easier to switch between Chrome and other applications again.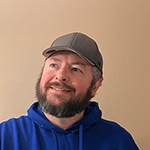 Matt Jacobs has been working as an IT consultant for small businesses since receiving his Master's degree in 2003. While he still does some consulting work, his primary focus now is on creating technology support content for SupportYourTech.com.
His work can be found on many websites and focuses on topics such as Microsoft Office, Apple devices, Android devices, Photoshop, and more.