Creating Safari bookmarks on an iPhone 14 is a straightforward process. Simply open Safari, navigate to the website you want to bookmark, tap the share button (the square with an arrow pointing out), and select "Add Bookmark." After saving, the website will be accessible from your bookmarks list for easy future access.
Once you've saved a bookmark, it will be stored in Safari's bookmarks list. You can organize these bookmarks into folders, edit their names, or delete them as needed. Syncing with iCloud allows these bookmarks to be accessed from any device signed into your Apple ID.
You can also watch this video about how to create Safari bookmarks on iPhone 14 for more on this topic.
Introduction
Picture this: You're browsing the web on your iPhone 14, stumbling across a plethora of websites you know you'll want to revisit. But here's the rub – how do you keep track of all these digital nuggets without turning your browser into a hot mess of tabs? That's where bookmarks come in handy, and if you're a Safari user, you're in luck because the process is as simple as pie.
Bookmarks are not just about convenience; they're a way to streamline your online experience, keeping all your must-return-to sites just a tap away. They can be powerful tools for productivity, learning, and even entertainment. For anyone who's ever been down the rabbit hole of internet browsing on their iPhone, only to realize they can't find that one important website again, bookmarks are a lifesaver. With the release of the iPhone 14, bookmarking has never been easier or more seamless, thanks to the updated iOS. Let's delve into the quick and painless process of creating Safari bookmarks on your new device. Whether you're a student, professional, or just a casual browser, this guide will ensure your favorite sites are never more than a few seconds away.
Related: iPhone Guide: How to Close All Safari Tabs
A Step by Step Tutorial
Creating bookmarks in Safari on your iPhone 14 allows you to save your favorite websites for quick access. The following steps will guide you through the process from start to finish.
Open Safari
Open the Safari app on your iPhone 14.
Opening Safari is your gateway to the web, and it's where your bookmarking journey begins. Make sure you're connected to the internet, and then launch Safari from your home screen or App Library.
Navigate to the Website
Navigate to the website you want to bookmark.
Once Safari is open, use the search bar at the bottom to type in the website's URL or search for it via your preferred search engine.
Tap the Share Button
Tap the share button at the bottom of the screen.
The share button looks like a square with an arrow pointing out of it. This button is your tool for interacting with content in ways other than just viewing it, like sharing links and, in our case, bookmarking them.
Select Add Bookmark
From the share menu, select "Add Bookmark."
After tapping the share button, a menu will appear with various options. "Add Bookmark" should be one of them. This option will allow you to save the webpage to your bookmarks list.
Edit and Save the Bookmark
Edit the bookmark name and location if desired, then tap "Save."
You'll have the option to rename the bookmark to something more memorable or place it in a specific folder. This can help keep your bookmarks organized and easily accessible. Once you've made your edits, tap "Save" to add the bookmark to your list.
Pros
There are numerous benefits to creating bookmarks on your iPhone 14. Let's explore a few of the major perks.
Easy Access to Frequently Visited Sites
You can quickly access your favorite websites.
Having bookmarks means you can get back to your favorite websites without remembering complicated URLs or searching for them every time. It's like having speed dial for the internet!
Improved Organization
Organize your web finds into folders.
Safari allows you to categorize bookmarks into folders, which means you can have a tidy, organized list instead of a chaotic collection of URLs. This is particularly handy if you use your iPhone for both work and personal browsing.
Sync Across Devices
Access bookmarks across all devices with iCloud.
When you create a bookmark on your iPhone 14, it can sync across all devices using the same Apple ID, thanks to iCloud. This means you can start reading an article on your phone and finish it on your iPad or Mac without skipping a beat.
Cons
While there are many advantages to using Safari bookmarks, there are also a few drawbacks to consider.
Limited to Safari
Bookmarks are only accessible within Safari.
If you use multiple browsers across your devices, Safari bookmarks won't be available in other browsers unless you use additional software or manual exporting and importing.
Storage Space
Using iCloud to sync bookmarks uses storage space.
If you have a ton of bookmarks and limited iCloud storage, you might run into space issues. It's important to manage your bookmarks and iCloud storage effectively.
Learning Curve
There's a learning curve for organizing bookmarks.
For new users, setting up and managing bookmarks might be a bit overwhelming, especially when it comes to organizing them into folders and syncing across devices.
Video About Creating Bookmarks
Additional Information
When diving into the world of Safari bookmarks on your iPhone 14, there are a couple of additional tidbits that can enhance your experience. For starters, did you know that you can also add bookmarks to your iPhone's home screen? This feature acts almost like an app for your favorite site, allowing even quicker access right from your phone's main display.
Furthermore, consider the searchability within your bookmarks. If you've accumulated a large number, simply pulling down on the bookmarks list will reveal a search bar, enabling you to find what you're looking for without endless scrolling.
Finally, it's worth noting that Safari on iOS also has a feature called "Favorites," which is a specialized group of bookmarks. These appear every time you open a new tab, giving you immediate access to your most visited sites. It's like having a VIP list for your web experiences.
Summary
Here's a condensed version of the steps to create Safari bookmarks on your iPhone 14:
Open Safari.
Navigate to the website.
Tap the share button.
Select "Add Bookmark."
Edit and save the bookmark.
Frequently Asked Questions
Can I create folders for my bookmarks?
Yes, you can create folders to organize your bookmarks directly within Safari.
Will my bookmarks sync to my Mac?
If you're signed into the same Apple ID and iCloud syncing is enabled, your bookmarks will sync across all your devices, including Mac.
Can I edit or delete a bookmark later?
Absolutely, you can edit or delete bookmarks by going into your bookmarks list and tapping "Edit."
What if I don't see the share button?
If you don't see the share button, make sure you're on a website and not on a blank page or the browser's start page.
How many bookmarks can I save?
There's no set limit to the number of bookmarks you can save, but keep in mind that iCloud storage limits do apply.
Conclusion
Bookmarks are an essential feature for any avid internet user, and on the iPhone 14, creating and managing them is more seamless than ever. Whether it's for keeping track of important resources, or ensuring that your favorite distractions are always a tap away, mastering Safari bookmarks will undoubtedly enhance your browsing experience.
Remember, organizing your bookmarks effectively can save you time and frustration, and thanks to iCloud, your extensive list of digital haunts can travel with you across all your Apple devices. Dive in, start bookmarking, and turn your Safari into a tailor-made library of your internet world.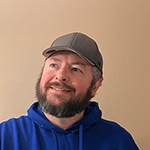 Matt Jacobs has been working as an IT consultant for small businesses since receiving his Master's degree in 2003. While he still does some consulting work, his primary focus now is on creating technology support content for SupportYourTech.com.
His work can be found on many websites and focuses on topics such as Microsoft Office, Apple devices, Android devices, Photoshop, and more.