The steps in this article are going to show you how to bookmark a Web page in the Google Chrome app on your iPhone 11.
Open the Chrome app.
Touch the icon with three dots at the bottom-right of the screen.
Scroll down and choose the Bookmark option.
Bookmarking Web pages on your computer or smartphone creates a simple way for you to navigate to Web pages that you wish to revisit.
You are probably either familiar with or comfortable with creating bookmarks on a desktop Web browser, but you may not know how to do it on your iPhone.
Luckily most of the popular iPhone browsers, including Google Chrome, provide ways for you to bookmark pages on your phone as well.
Our guide below is going to show you how to create a bookmark in Google Chrome on your iPhone 11 so that you can open your bookmarks folders later to navigate back to that page.
How to Create a Bookmark in the Chrome iPhone App
The steps in this article were performed on an iPhone 11 in iOS 13.3.1.
Step 1: Launch the Chrome app.
Step 2: Select the menu icon at the bottom-right of the screen.
Step 3: Scroll down and touch the Bookmark option.
If you would like to edit the name of the bookmark, then touch the Edit button.
You will then see the screen below, where you can make any necessary edits.
To view your bookmarks open the menu from the bottom-right of the Chrome screen, choose the Bookmarks option, then tap on a bookmark to open it.
Find out how to stop blocking pop-ups in the Chrome iPhone app if you need to access a page that is being displayed as a pop-up window, but Chrome keeps blocking it.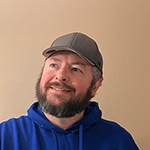 Matt Jacobs has been working as an IT consultant for small businesses since receiving his Master's degree in 2003. While he still does some consulting work, his primary focus now is on creating technology support content for SupportYourTech.com.
His work can be found on many websites and focuses on topics such as Microsoft Office, Apple devices, Android devices, Photoshop, and more.