You may have already figured out how to change the rigntone on your iPhone 13 so that you could use a different sound, or even a song, as the tone that you hear when you receive a phone call.
But there is more that you can do with those ringtones, including a way for you to assign different ttones to different contacts.
Our tutorial below will show you the steps for how to add ringtone to iPhone contact entries on your phone.
How to Assign a Custom Ringtone to a Contact on an iPhone 13
Open the Phone app.
Choose the Contacts tab.
Select a contact.
Touch Edit.
Choose Ringtone.
Select a ringtone, then tap Done.
Our guide continues below with additional information about these how to add ringtone to iPhone contact steps, including pictures.
There are a number of different options on the Sounds & Haptics menu of your iPhone where you can choose the sounds that play on the device.
Among options like text tones, voicemail sounds, and calendar alerts you will find an option for a ringtone.
There are a lot of ringtone options on the iPhone by default, and whichever sound you select on this menu will play when you get a phone call from someone.
But there is another way to send ringtones on an iPhone, and you can choose different ringtones for different people.
So if you wanted to have a special ringtone for your mom or a special ringtone for your best friend, then you would be able to set that up with the steps below.
How to Set Unique Ringtones for a Contact on You iPhone (Guide with Pictures)
The steps in this article were performed on an iPhone 13 in the iOS 15.5 operating system.
Step 1: Open the Phone app.
Step 2: Touch the Contacts tab at the bottom of the screen.
Step 3: Select a contact for whom you wish to set a custom ringtone.
Step 4: Tap the Edit button at the top-right corner of the screen.
Step 5: Scroll down and choose the Ringtone option.
Step 6: Select the tone that you wish to use, then tap the Done button at the top-right corner of the screen.
Now that you know how to add ringtone to iPhone contact profiles you will be able to repeat these steps for any other contact for which you would like to create a custom ringtone.
Our tutorial continues below with additional discussion about using custom contact ringtones on an iPhone.
More Information on How to Use Ringtones for Contacts on an iPhone 13
While we recommend going through the Phone app to get to your iPhone contacts in our tutorial above, there is a dedicated Contacts app on the phone that you could use instead.
One way to find it is to swipe to the left on your Home screen, then tap the Extras folder. Inside that folder, you should find the Contacts app, which will open to the same screen that you see when you choose the Contacts tab in the Phone app.
Another way to open the Contacts app is to swipe down on the Home screen, which opens the Spotlight Search screen.
Here you can type the word "contacts" into the search field at the top of the window, then tap the Contacts app from the search results.
We also mentioned above that you can use a song as your ringtone. You can do this by either creating ringtones in iTunes or GarageBand, then importing them to your phone.
You could also use a third-party app to convert songs into ringtones.
However, you could also go to the iTunes Store, tap the More button at the bottom-right, then select the Tones option. There you can browse for and purchase new tones, which you will be able to assign to contact just like you would with any other ringtone on your device.
You will note that there is also an option on the contact settings screen where you can set a custom text tone as well, which you should do if you would also like to hear a different notification sound when this person sends you a text message.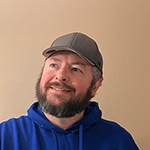 Matt Jacobs has been working as an IT consultant for small businesses since receiving his Master's degree in 2003. While he still does some consulting work, his primary focus now is on creating technology support content for SupportYourTech.com.
His work can be found on many websites and focuses on topics such as Microsoft Office, Apple devices, Android devices, Photoshop, and more.