Occasionally you, or someone who manages a network you often connect to, will need to update the password. This means that you will need to know how to change WiFi password on iPhone 7 if you want to keep connecting to that network to access the Internet.
How to Update an iPhone Wi-Fi Password
Open Settings.
Choose Wi-Fi.
Tap the i button next to the network.
Choose Forget this Network.
Tap Forget.
Tap on the wireless network.
Enter the new password.
Our guide continues below with additional information on how to change WiFi password on iPhone 7, including pictures of these steps.
Living in the Internet era means that we have to deal with a lot of passwords. You might have some passwords saved on your phone for websites that you visit, or for apps that you use.
But there are also passwords that you entered when you connected to wireless networks at home, work, or other places where you wanted to get online without using cellular data.
Good security practice typically involves changing your important passwords periodically.
There's always the chance that your credentials might be compromised or, in the case of your home network, you might have given the password to friends or family and simply want to update the password so that only your currently-used devices can connect.
Our guide below will show you how to change the wifi password on an iPhone 7 if you have updated the password for a wireless network and would like to continue connecting to it.
iPhone 7 – How to Change Wifi Password (Guide with Pictures)
The steps in this article were performed on an iPhone 7 Plus, in iOS 11.4.1. This process is going to involve forgetting the password for a wireless network to which you are currently connected. You will then need to reconnect and re-enter the password for it to use network resources.
You can make changes to other items related to wireless connections as well. Check out our how to change hotspot name iPhone guide if you want to use a different name when you are sharing your connection.
Step 1: Open the Settings app.
Step 2: Touch the Wi-Fi option.
Step 3: Tap the i button to the right of the wireless network to which you are currently connected.
Step 4: Select the Forget this Network option.
Step 5: Tap the Forget button to confirm that you wish to reset the wifi password for the network.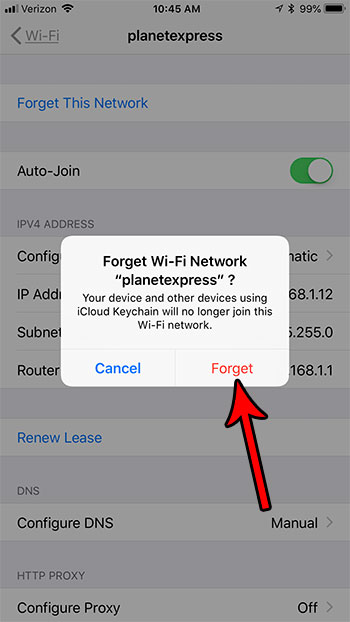 You can then reconnect to the wireless network by selecting it from the Wi-Fi menu and entering the password.
Hopefully this guide has answered your questions regarding how to change WiFi password on iPhone 7, or other iPhone models in recent versions of the iOS operating system.
Do you have an app on your iPhone that you aren't using anymore? Find out how to delete an app on an iPhone 7 to get the storage space back that is being used by the app.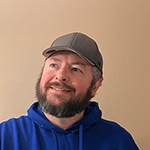 Matt Jacobs has been working as an IT consultant for small businesses since receiving his Master's degree in 2003. While he still does some consulting work, his primary focus now is on creating technology support content for SupportYourTech.com.
His work can be found on many websites and focuses on topics such as Microsoft Office, Apple devices, Android devices, Photoshop, and more.