Your iPhone 13's Safari Web browser has a lot of useful features that can make it easier for you to get to your favorite websites.
One of these features allows you to "favorite" the site, which will place it on a special menu where you can tap a link to go to the site.
Our tutorial below will show you how to favorite a Web page in your iPhone Safari browser using some steps that will only take you a few seconds.
You can watch this video about how to favorite a website on iPhone 13 for additional information.
How to Save a Website as a Favorite on an iPhone
Open Safari.
Go to the Web page.
Touch the Sharing button.
Choose Add to Favorites.
Tap Done.
Our guide continues below with additional information about how to favorite a Web page in Safari on iPhone 13, including pictures of these steps.
Favoriting Web pages is a useful technique on laptop or desktop computers, and it can be just as helpful on your phone.
Even if you are really good at typing accurately on a mobile keyboard, it's easy to make a mistake and end up on the wrong website.
Choosing to make a site a favorite in the Safari iPhone browser can not only be a faster way to get to your pages, but it can also eliminate the frustration of going to the wrong site, or a site that doesn't exist.
Our how-to tutorial below will show you what to do to make a favorite in Safari on an iPhone.
How to Favorite Pages in Safari on iPhone
The steps in this article were performed on an iPhone 13, in the iOS 16.4 operating system.
Step 1: Open the Settings app on your Home screen.
Step 2: Navigate to the Web page that you would like to add to your Safari favorites.
Step 3: Tap the Share button at the bottom of the screen.
It looks like a square with an arrow pointing out the top of it.
Step 4: Scroll down and select the Add to Favorites option.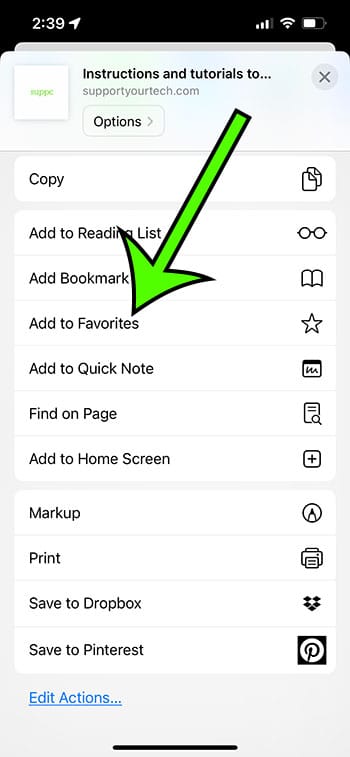 Step 5: Change the name of the Web page (if desired), then tap Done at the top-right corner of the screen.
Now when you want to get to this favorite, you simply need to tap the book icon at the bottom of the Safari screen, select the top-left bookmarks tab, choose Favorites, then tap on the link.
Now that you know how to favorite a Web page in Safari on iPhone 13, you will be able to use this method to make it a little easier to get to the websites that you visit most often.
If you find that some of the pages you visit aren't working properly, then you might need to check to see if Javascript is disabled. We discuss how to find this information in the next section.
How to Enable Javascript on Safari
Many of the websites that you visit will use some type of Javascript on their pages.
You can check out this article about how to enable Javascript on an iPhone for more information about this topic.
If you are troubleshooting a problem in Safari and turn off Javascript, then you might discover that some of the pages aren't working properly, or even at all.
Fortunately, you can re-enable Javascript in the iPhone's Safari browser with just a few steps.
Open Settings.
Select Safari.
Scroll down and choose Advanced.
Tap the button next to Javascript to turn it on.
Now you should be able to go back to Safari and reload the page that you were visiting. If the problem was related to disabled Javascript, then the site should be functioning properly.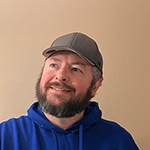 Matt Jacobs has been working as an IT consultant for small businesses since receiving his Master's degree in 2003. While he still does some consulting work, his primary focus now is on creating technology support content for SupportYourTech.com.
His work can be found on many websites and focuses on topics such as Microsoft Office, Apple devices, Android devices, Photoshop, and more.