Your iPhone can rotate its screen based on how you are holding it. But you can also lock the screen so that this doesn't happen.
Personally, I will use the orientation lock when I'm lying on my side and looking at my phone, as that seems to be the most common scenario where the device is rotating when I don't want it to.
Use these steps to turn off the rotation lock on an iPhone 11. For additional iPhone guides, visit mobilephonetipsandtricks.com.
How to Turn Off Auto Rotate on iPhone 11
Swipe down from the top-right of the screen.
Tap the Portrait Orientation Lock button to turn it off.
Our guide continues below with additional information on how to turn off auto rotate on iPhone 11, including pictures of these steps.
Your iPhone 11, like many of the iPhone models before it, has a menu called the Control Center where you can change some of your iPhone settings.
Some of these settings are found in other locations as well, but there is one specific setting that you can only find here.
This setting, called "Portrait Orientation Lock" can stop your iPhone from switching between portrait and landscape mode, based on how the phone is being held.
For example, I find myself enabling Portrait Orientation Lock if I'm using my phone while laying down. The phone has a tendency to keep switching between landscape and portrait orientation in that situation, and I find it far less frustrating to just keep the phone in portrait.
But if your iPhone is locked in portrait and you don't know how it happened, our guide can show you how to turn off that portrait orientation lock on your iPhone 11.
Wondering how to close apps that seem to keep running all the time? Our how to stop Pandora on iPhone guide can show you a quick way to do it.
How to Disable iPhone 11 Rotation Lock (Guide with Pictures)
The steps in this article were performed on an iPhone 11 in iOS 13.6.1. On some earlier models of the iPhone you open the Control Center by swiping up from the bottom of the screen instead.
These steps will show you how to turn off the screen rotation iPhone 11 lock.
Step 1: Open the Control Center.
Swipe down from the top-right corner of the window to open the iPhone 11 Control Center.
Step 2: Tap the Portrait Orientation Lock button.
Turn off the iPhone rotation lock by touching the Portrait Orientation Lock button, which is the one that looks like a padlock with a circular arrow around it.
The auto rotation on your iPhone should now be en-enabled, so you should be able to turn the device ot the side and see things in landscape mode again.
Note that this only affects apps that can be in both portrait or landscape mode. If you are using an app that is only accessible in portrait or landscape mode then the rotation lock setting won't affect it.
Our tutorial continues below with additional discussion about how to keep screen from rotating on iPhone.
More Information on the Auto Rotate Screen iPhone 11 Setting
When you disable auto rotate iPhone capabilities you can make some apps act strangely.
While many apps are able to run fine in both portrait or landscape orientation, others can rely on easily switching, which could prevent them from working properly.
Luckily if you are using one of those apps and need to be able to switch orientation, then you can simply follow the steps above for how to unlock iPhone 11 screen rotation and allow your phone to go to landscape until you're done with the app.
Since the steps for how to keep phone from rotating and how to allow it to rotate are essentially the same, you can easily use both options as needed.
Frequently Asked Questions About How to Rotate Screen on iPhone 11
Where is the screen rotation lock icon on the iPhone 11?
You will find the button that locks your iPhone screen orientation in the Control center.
On the iPhone 11 and other iPhone models that don't have a Home button, you will find the Control Center by swiping down from the upper right corner of the screen.
On older iPhone models and iPod Touch devices that do have a Home button, you can open the Control Center by swiping up from the bottom of the phone screen.
Is there a way to lock the iPhone into landscape mode?
Unfortunately, the only orientation where you can stop the iPhone screen rotating is the portrait mode.
If you want to view the phone in landscape mode then you will need to use the auto rotate feature and rotate the screen so that the long end is facing toward you.
How do I turn off the lock screen sound on the iPhone?
If you no longer wish to hear the sound that plays when you lock or unlock your iPhone screen then you can tap the Settings app on your Home screen, choose the Sounds & Haptics option, then scroll to the bottom of the menu and turn off the Lock Sounds option.
Which button on the iPhone Control Center is the portrait orientation button?
The button that you need to select to turn screen rotation on or off is the button that looks like a lock with an arrow encircling it.
When you touch the lock rotation button you will see a message at the top of the screen that says Portrait Orientation Lock: On.
When you turn it off the message will say Portrait Orientation Lock: Off instead.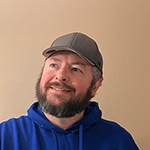 Matt Jacobs has been working as an IT consultant for small businesses since receiving his Master's degree in 2003. While he still does some consulting work, his primary focus now is on creating technology support content for SupportYourTech.com.
His work can be found on many websites and focuses on topics such as Microsoft Office, Apple devices, Android devices, Photoshop, and more.