We use the voicemail service on our iPhones every day; this helpful feature is a part of our life now. But there will be times and reasons why you may want to disable this feature, which can leave you looking for how to turn off voicemail on iPhone 13.
Some phone providers charge you extra bucks for this feature, or you have to pay additional charges for your voicemail when traveling abroad. And that can wind you up; that's nothing surprising.
Don't worry; you don't have to go through that ordeal anymore as we are here with the solution. Here we will tell you how to turn off voicemail on iPhone. We'll guide you through all the steps, so don't worry about anything at all.
How to Turn Off Voicemail on iPhone – Step by Step
When it comes to disabling the voicemail on the iPhone, there are different ways for you to accomplish your goal. Therefore, if one method doesn't work for you or feels a bit complicated, you can follow the other without any delay.
Today we'll discuss two methods to disable the voicemail feature and share some additional tips. So, let's get started, shall we?
Did you know that you can make videos of your iPhone screen? Find out how to use the screen recorder on iPhone 13.
Method One – Disable Voicemail Forwarding with a Shortcode
Though the permanent way to disable the voicemail service is to call your phone carrier, you can manually deactivate it temporarily by dialing a code. And this is how you do it.
You first need to go to the phone app on the iPhone's home screen, as you have to press a number to disable voicemail.
You have to type the voice activation code #004 on the phone app. Once you go there, tap call. This code works for most GSM providers in the world.
When you are done typing, it is time to make a phone call! After pressing the phone icon, a grey screen full of texts will show. After a while, a notification will inform you that your iPhone voicemail features have been deactivated successfully.
Now your unanswered calls will message that your voice mail service is not active. However, this method doesn't work for most phone service providers. So, if this process fails you, go for the following method we are about to share. And if it works, you can dial #004# and get your voicemail activated.
If you don't want to employ this method for how to turn off voicemail on iPhone 13 then there are some additional options outlined below.
Do you see the word "delivered" under some of your texts? You can check out our guide on that topic to find out more about it.
Method Two – Contact the Carrier
This one is the most effective procedure you can try for disabling voicemail on iPhone. Hence, if dialing shortcode doesn't work, you can follow this one. However, it will permanently delete all your voicemail functions, voice messages, and voicemail password, so be careful while doing that.
Step One – Call the Customer Service to Disable Your Voicemail
First of all, you have to access the Phone app on your home screen obviously as you're going to make a call now! You can dial *611 to reach the customer service of the phone carriers. Call the customer care phone numbers directly if it doesn't work for you.
Take a peek at the list of some common phone service provider lines you can call to disable voicemail on your iPhone.
T Mobile or Sprint: Dial 611 or call 1-800-937-8997
Telus: Dial 611 or 1-866-558-2273
Rogers: Dial 611 or 1-888-764-3772
Vodafone: Dial 199.
Xfinity Mobile: Dial 1-888-936-4968
BT Mobile: Dial 0800 800 150
Cricket: Dial 611 or 1-800-274-2538
If you need how to turn off voicemail on iPhone Vodafone steps, or how to turn off voicemail iPhone Verizon steps then you should be able to use these steps for that goal, too.
Step Two – Ask the Agent to Disable the Feature
Once the customer care agent picks up your call, explain your reasons and ask to disable the voicemail function. And that's everything you need to do if you've been wondering how to turn off voicemail on iPhone 13.
When the service is immobilized, people who will call your voice mailbox will receive a recording telling them that your voice mail option is currently inactive.
How to Forward Your Voice Mail to Another Number on iPhone
Suppose you're traveling but don't want to know how to disable voicemail on iPhone. In that case, you can turn on the forwarding settings. It will forward the audio messages to another number to avoid unwanted data roaming charges. It works just like the fax call forwarding. This can be a strong alternative if our steps on how to turn off voicemail on iPhone 13 aren't ideal for your current situation.
Note that this option is only available if you have a GSM provider. This won't work if you have a CDMA provider.
Step One – Go to Your iPhone's Setting
Firstly, please find out the Settings app icon on your phone and tap on it. When the iPhone setup opens up, there will be many options on the screen; one of them is a Phone. After seeing it, click on that.
Step Two – Enable Voice Call Forwarding
When the Phone options show up, scroll down and see the "Call Forwarding" choice. Then, slide the "Call Forwarding" switch to On, and the feature will be enabled, and your voicemail message will go to another number now.
Step Three – Type the Phone Number
After enabling the voice call forwarding, the "Forward To" option will pop up, and you have to tap on it. Then type the phone number you prefer to forward calls to, including your area or country code.
Final step – Tap the Back Button
When you are done pressing numbers, press the "Back" option on the top left of your iPhone's screen. And you are done with enabling the data call forwarding process.
If you feel the necessity to disable forwarding, go to the "Call Forwarding" and slide the switch to turn it off. Isn't that simple?
Is your iPhone storing location data for your pictures? Find out how to turn off geotagging on iPhone and prevent that information from showing up.
Can I Delete Voicemail Messages from iPhone?
When your voice mailbox is full, or you simply want to erase some messages from the visual voicemail, here's how to remove voicemail on iPhone.
At first, open the phone app, and you'll see the "Voicemail" option on the bottom right of the screen. Now, tap on that to see the voicemail settings.
When the voice mailbox shows up, you'll be able to see who has left you messages on your voicemail number. Then, you can delete them one by one or all at once.
Slide each message to the left and press the trashcan icon to delete them one by one.
If you want to delete all messages, tap on the "Edit" option. You will find it in the top right corner. After pressing it, there will be circles beside your messages; tap every circle and then press "Delete" to erase them.
Now, tap on the "Deleted Messages," and a "Clear All" option will show up on the screen. It will be in the top right corner. Once you hit it, all of your voicemails will be gone permanently. So be cautious while doing that.
If you want to save any messages, you can export them before deleting them. Or you can use the voicemail transcription to turn the voice message into text.
How to Set up Voicemail on iPhone
Here's how you activate your iPhone voicemail box for your rejected calls.
Firstly, you have to go to your voicemail setting and tap on it.
Secondly, select the "Set up Now" option to record your voicemail greeting and set up the voicemail password options.
When the setup screen comes, create your voicemail password.
After creating a password, you can choose a default saved greetings or record your custom one.
How Do I Get to My Voicemail Service in the Phone App?
if you have configured the voicemail service on your iPhone then you will probably want to know how you can get to it in order to listen to the voicemail messages that you have received.
Open the Phone app.
Touch the Voicemail tab.
Tap on a message to listen to it.
As we mentioned previously you can delete a message by swiping left on it, then tapping the Delete button.
Deleted messages will be moved to the "Deleted messages" section. you can permanently delete a message there by swiping left on it and tapping the Clear button.
The Bottom Line
So, here was everything on how to turn off voicemail on iPhone 13. You can reactivate voicemail service whenever you want, so there's nothing to worry about at all.
You can also use the same steps in this article if you need turn off voicemail iPhone 12 or turn off voicemail iPhone 11 instructions.
After disabling the feature, you can call your phone from another device to check if it's successfully disabled or not. And that's all!
If you're a Google Slides user and are struggling with the order of your slide objects, then learn how to change layer order in a Google Slides presentation.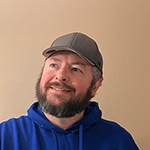 Matt Jacobs has been working as an IT consultant for small businesses since receiving his Master's degree in 2003. While he still does some consulting work, his primary focus now is on creating technology support content for SupportYourTech.com.
His work can be found on many websites and focuses on topics such as Microsoft Office, Apple devices, Android devices, Photoshop, and more.