While you may have already configured your voicemail inbox greeting and are ready to identify yourself to missed calls, you might be wondering how to retrieve voicemail on iPhone 13 when you need to listen to one.
There's no denying that your Apple devices are full of wonderful features, and the visual voicemail feature on your iPhone is one of the handiest of all. Instead of listening to all the messages from top to bottom, you can open any voicemail message individually just by a simple tap on the touchscreen.
However, some people might have a hard time handling voicemail messages, especially new iPhone users. If, for some reason, you delete an unopened message, you need to know how to retrieve voicemail on iPhone for getting it back.
To help you with your voicemail settings, we will discuss how to set up voicemail, listen to voicemail, delete and retrieve voicemail messages. So, without further ado, let's get straight into it.
How to Listen to Voicemails on Your iPhone 13
Open the Phone app.
Select Voicemail.
Tap on a message.
Press Play.
Our article continues below with additional information on retrieving voicemail on an iPhone, including pictures of these steps.
How to Retrieve Voice Messages on iPhone 13 – Step by Step (Guide with Pictures)
To be able to access the voicemail service and retrieve a deleted message, you need to activate the voicemail options and sync them with your iPhone cloud. Although the procedures might vary depending on your phone carrier and iOS version, the general process is the same for most Apple phones.
Step 1: Find the Phone icon on your iPhone and tap it.
Step 2: Choose the Voicemail tab at the bottom-right corner of the screen.
Step 3: Tap on the message you want to retrieve.
If you have not set up your voicemail before then you will need to do so before you can retrieve your messages. Continue to the next section to complete this setup.
Step 4: Tap Play to hear the message.
If your voicemail is not yet set up on your iPhone then you will need to complete that process. Follow the steps given below to activate voicemail on your iPhone successfully.
If you've ever needed to show someone how to do something on their phone, then you know how useful screenshots can be. But did you know you can make videos of your screen, too? Find out how to use the iPhone 13 screen recorder.
How to Set up Voicemail Message Service on an iPhone 13
The process of setting up voicemail is pretty simple as long as you're not using a super old Apple phone. And this is how you do it –
Turn on your Apple device and tap on the 'Phone' icon from the bottom of your home screen.
On the phone app, you will see the option 'Voicemail' in the bottom right corner. Tap on it and then select 'Set Up Now.'
Now you'll be asked to set up a voicemail password. Type a unique password and tap 'Done.' After that, you have to re-type the password and press 'Done' again.
This is the time to select a greeting. For setting the default greeting, tap 'Default,' and a pre-recorded setting will be saved for all incoming calls. Otherwise, choose 'Custom' for setting a personalized greeting.
Select 'Record' and record a message. When you're done, tap 'Save.' And your job is done!
Note that if your iPhone doesn't have visual voicemail options, you need to contact your phone carrier or use the old dialing method to set up voicemail.
How to Access Your Voicemail Messages on iPhone 13
Once your visual voicemail feature is turned on, now it's time to check out the playback options. Here's how to retrieve voicemail on iPhone 13 so you can listen to voicemail messages –
Go to the 'Phone' app and check out for new messages. If you have any new voicemail, the voicemail icon at the bottom will indicate it by red numbering. Tap on it to check voicemail.
Now you'll see all the voicemails you have received. If needed, type your voicemail password. Tap on a particular voicemail message to open various playback options.
Tap 'Play' so that you can listen to the message. Once the voicemail message starts playing, you can tap 'speaker' for amplifying the sound.
Select 'Pause' for pausing the message for a while. Tap on the play icon to start the audio again.
Press the slide bar and swipe left or right to rewind or fast-forward your voicemails.
How to Delete Messages from Your Voicemail on iPhone 13
Sometimes you need to delete voicemail messages to make room for new voicemails. Here's how you can delete voicemail messages from your iPhone-
First, make sure you have set up iCloud settings on your Apple devices, as this will help retrieve deleted messages.
From your phone app, open the voicemail tab and press on the voicemail you want to remove. Now, look for the delete icon on your screen and tap on it.
Otherwise, there will be a delete option in the middle of your screen. Tap 'Delete' to send your voicemail to the trash.
How to Retrieve Deleted Messages on an iPhone 13
When it comes to recovering a deleted message on your iPhone, there's more than one way to do it. So, if your iPhone doesn't support one method, opt for the next one. Below are some easy and effective methods to retrieve deleted voicemails.
Method One – Recover from Deleted Folder
It's probably the easiest way to retrieve recently deleted voicemails of your iPhone. Usually, the old messages or the messages you delete manually are moved to a trash folder. You can easily retrieve any newly deleted voicemail from there. Here's how you do it –
Choose the phone icon on your phone screen and tap voicemail.
Now scroll down until you reach the bottom of your phone screen. Then tap 'Deleted Messages.'
You can listen to all the recently removed messages and preview them in this folder. Press on the particular message you need to recover and tap 'Undelete.'
Go back to your voicemails and look for the retrieved message. Got it? Then your mission to retrieve a voicemail on iPhone is successful.
Remember that certain countries and some cell phone carriers don't keep the deleted voicemails in the trash and remove them permanently. Unfortunately, in that case, you can't recover the messages.
Method Two – Recover Via iCloud
As we mentioned, if you have activated iCloud backup on your iPhone, you can recover your older voicemails. However, you need to restore all the data of your Apple device in this method. So, this method isn't recommended if you don't have any other backup.
Here's how to use iCloud for restoring the voicemails –
From your iPhone home screen, go to 'Settings' and then tap on 'General.
Scroll down to locate the 'Reset' option and press it. Now, tap 'Erase All Content and Settings.' This will erase all the data of your phone.
After that, you need to follow the necessary steps given on your screen. Select 'Restore from iCloud Backup' from there.
Put your password to access your iCloud account and select the particular backup you need to restore. It will bring back the removed messages on your device.
Method Three – Use a Third-Party App
Although the previous methods are effective for most iPhone devices, they might not work in some iOS versions. In that case, you can opt for a third-party app for recovering a message you deleted permanently. PhoneRescue for iOS and iMyFone D-Back are two reliable tools you can use for this purpose.
It can be frustrating when you have images or text boxes overlapping each other in Google Slides, so find out about one way to fix that.
Conclusion
So, there you have detailed instructions on how to retrieve voicemail on iPhone. From setting up the voicemail message service to recovering a deleted message, everything will be super easy if you follow our guide properly.
In case you face any problem regarding the voicemail feature, visit the Apple website to find a solution.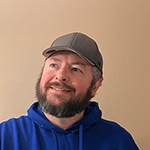 Matt Jacobs has been working as an IT consultant for small businesses since receiving his Master's degree in 2003. While he still does some consulting work, his primary focus now is on creating technology support content for SupportYourTech.com.
His work can be found on many websites and focuses on topics such as Microsoft Office, Apple devices, Android devices, Photoshop, and more.