Have you ever pressed Enter a bunch of times to force a new page?
While this can create something close to the result that you want, it can be problematic later if you start adding more content to the document.
Our tutorial below will show you another way to force Word to begin a new page with the help of a page break.
How to Make Microsoft Word Start a New Page
Open the document.
Click where you want to start the new page.
Select the Layout tab.
Click the Breaks button.
Choose the Page option.
Our guide continues below with additional information on inserting page breaks in Microsoft Word, including pictures of these steps.
When you are creating a document in Microsoft Word, the application will typically continue adding content to the current page until it runs out of room. In many cases, this is the desired result, which is why it's the default setting in the application.
But not every case wants Word to behave in this manner, and you may find yourself in a situation where you need to start a new page before Word wants to start that page itself.
One option that you may have tried to achieve this result is simply pressing Enter on your keyboard a bunch of times until you get to a new page.
This can definitely work, but it can also create problems later, as you now have at least a handful of empty lines that are part of your document.
One other way to force Word to start a new page is by adding a Page Break. Our article below will show you how to insert a page break into your document so that all of the content after the page break will start on the next page.
Related Guide: One other layout option you might consider is columns. You can find out more with this how to make columns in Word Office 365 article.
How to Insert a Page Break in Microsoft Word for Office 365 (Guide with Pictures)
The steps in this article were performed in the Word for Office 365 version of the application, but will also work in most older versions of Word as well.
Step 1: Open your document in Microsoft Word.
Step 2: Click at the point in your document where you wish to start a new page.
Step 3: Select the Layout tab at the top of the window.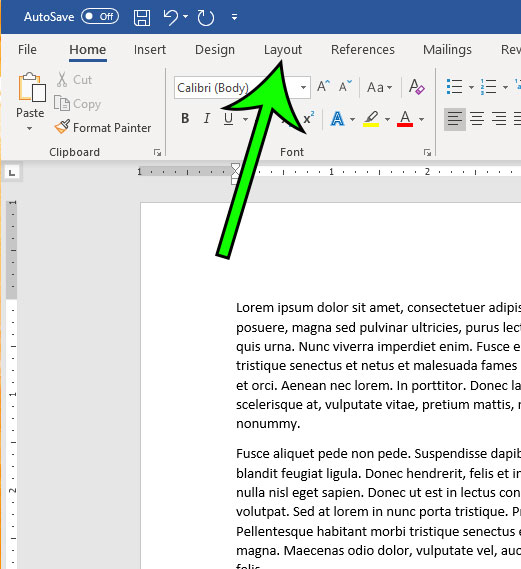 Step 4: Click the Breaks button, then choose the Page option.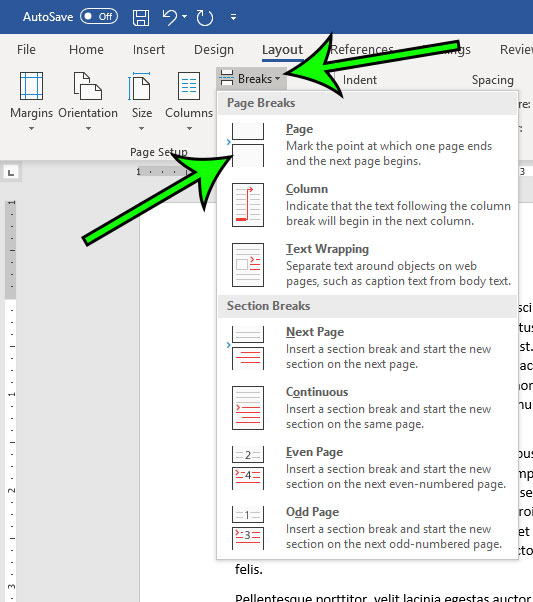 Everything after where you placed your cursor in step 2 should now be on the next page.
Now that you know how to add a page break in Word for Office 365 you will be able to take more control over the layout of the documents that you are editing.
Are you creating a newsletter or an article? Find out how to add columns in Microsoft Word if that layout better suits the content that you are writing.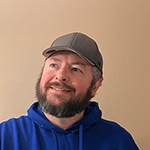 Matt Jacobs has been working as an IT consultant for small businesses since receiving his Master's degree in 2003. While he still does some consulting work, his primary focus now is on creating technology support content for SupportYourTech.com.
His work can be found on many websites and focuses on topics such as Microsoft Office, Apple devices, Android devices, Photoshop, and more.