You can close all of your iPhone 13 Safari tabs by opening Safari, tapping and holding on the Tabs icon, choosing Close All Tabs, and then tapping Close Tabs to confirm.
Our guide continues below with more information about closing these browser tabs.
You can also check out this video about how to close all tabs on iPhone 13 for more on this topic.
How to Close All Open Safari Tabs
The steps in this article were performed on an iPhone 13 in the iOS 17 operating system.
These steps work in many other versions of iOS, and on many other iPhone models, including the following:
iPhone 13 Mini
iPhone 13 Plus
iPhone 13 Pro
iPhone 13 Pro Max
Step 1: Find the Safari icon on your Home screen and tap it to open the app.
Step 2: Tap and hold on the Tabs icon at the bottom-right corner of the screen.
Step 3: Choose the Close All Tabs option.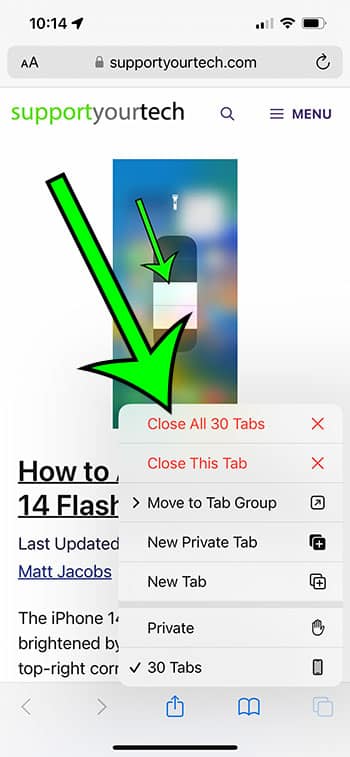 Step 4: Tap Close All Tabs to confirm.
Note that this is only going to close all of the tabs that are open in the current browsing mode.
For example, this might only close the tabs in normal browsing mode, so you would also need to switch to private browsing mode and follow these steps to close all of the private browsing tabs as well.
If you don't want to close all of your tabs but would like to close a single tab, then you can tap on the Tabs icon, and then tap the x button on the tab that you would like to close.
Additonally, this is only going to affect the tabs in the Safari browser. If you are also using another browsing app like Chrome or Firefox, then you will need to close the tabs inside of those apps separately.
Video – Closing All of Your IPhone 13 Tabs
Summary – Closing Safari Tabs
Open Safari.
Tap and hold on to the Tabs icon.
Select Close All Tabs.
Choose Close Tabs to confirm.
Related: How to Remove Safari Frequently Visited on iPhone 13
Conclusion
Tabbed browsing provides a convenient way for you to quickly switch between different Web pages.
But eventually, you may find that you have a lot of tabs open in the iPhone Safari browser, which can make it tough to find the pages that you need. It may even cause the browser to run slowly.
Fortunately, you won't need to close all of these tabs individually, as there is an option to quickly close all of them at once.
Hopefully our guide above about how to close all tabs on iPhone 13 has provided you with the information that you need in order to start managing your Safari tabs a little more easily.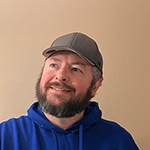 Matt Jacobs has been working as an IT consultant for small businesses since receiving his Master's degree in 2003. While he still does some consulting work, his primary focus now is on creating technology support content for SupportYourTech.com.
His work can be found on many websites and focuses on topics such as Microsoft Office, Apple devices, Android devices, Photoshop, and more.