You may name an iPhone 14 group text by opening the Messages app, selecting the discussion, touching the names of the members at the top, selecting Change Name and Photo, typing the group name, and then tapping Done.
More information on iPhone 14 group text names, as well as screenshots of these processes, can be seen in the section below.
See this video on how to name a group text on iPhone 14 for more information.
How to Name a Group Text on iPhone 14
The steps in this post were completed on an iPhone 14 Plus running iOS 16.6.
These processes apply to a variety of other iOS versions as well as various iPhone models, including the following:
iPhone 14
iPhone 14 Pro
iPhone 14 Pro Max
Step 1: Open the Messages app on your iPhone.
Step 2: Choose the chat that you wish to rename.
Step 3: At the top of the screen, tap the names of the group members.
Step 4: Click the Change Name and Photo button.
Step 5: In the "Enter a Group Name" box, input the message's desired name, then click the Done button in the upper-right corner of the screen.
Tap Done again to return to the discussion.
Now that you know how to name a group text on iPhone 14, you can make it much easier to identify certain message discussions in the app.
If you choose, you can always change the name of the group text in the future.
Instructions for Naming iPhone Group Messages in Video
Summary – Group Message Names
Navigate to Messages.
Select the group text.
Choose one of the names shown at the top of the screen.
Select the Change Name and Photo option.
Give the group a name, then click Done.
Related: How to Delete Text Messages from Your iPhone 14
Conclusion
Group texting allows multiple people to join in the same conversation.
It's a handy tool for organizing events or staying in touch with a group of friends, family, or coworkers.
However, as the number of chats in your Messages app rises, finding a single text message thread can become increasingly difficult.
Fortunately, you can create custom titles for discussions to make it easier to find them.
Hopefully, our article on how to name a group text on iPhone 14 has provided you with enough knowledge to start creating and applying your own names to existing group text message conversations on your Apple device.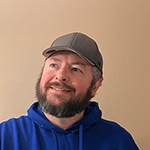 Matt Jacobs has been working as an IT consultant for small businesses since receiving his Master's degree in 2003. While he still does some consulting work, his primary focus now is on creating technology support content for SupportYourTech.com.
His work can be found on many websites and focuses on topics such as Microsoft Office, Apple devices, Android devices, Photoshop, and more.