While many of the text messages that you receive on your iPhone are going to come from friends, family, or coworkers, you might still receive some that come from unknown numbers.
if you find that you don't want to see those messages because they are unwanted or unimportant, then you might be looking for a way to put them out of sight.
The steps in this guide are going to show you how to enable or disable the Unknown Senders tab in the Messages app on your iPhone.
Related Guide: want to make your screen brighter? Then visit our how to adjust brightness on iPhone 13 guide to find out how.
How to Filter Unknown Messages on iPhone
Open the Settings app.
Scroll down and choose the Messages option.
Choose the Unknown & Spam option.
Tap the button to the right of Filter Unknown Senders.
Our guide continues below with additional information on how to filter unknown messages on iPhone, including pictures of these steps.
If you've been wondering why you only know that some of your messages have been delivered, then our what does delivered mean on iPhone guide can provide additional information.
With the recent increase in spam and telemarketing phone calls, a lot of people are receiving calls from people that they don't want or need to talk to. In many cases, blocking these numbers as they call is one of the only options for dealing with them.
But spam contact isn't limited to just phone calls, and it's possible that you are also getting spam text messages. Your iPhone has a feature where it can filter text messages from unknown senders into a separate tab, where you also won't receive notifications for those messages. If you are receiving many alerts from a text message you don't want to block, you could follow the steps in this guide about hiding iPhone alerts.
You may find, however, that it is filtering messages from people that you would like to communicate with. In that case, you may wish to disable this unknown sender filtering in your iPhone messages app. Our tutorial below will show you where to find that option.
Our guide on what does delivered mean on iPhone can help you to determine what that notification means on some of your sent messages.
How to Enable or Disable Unknown Sender Filtering in the iPhone Messages App (guide with Pictures)
The steps in this article were performed on an iPhone 11 in iOS 13.1.3.
Step 1: Open the Settings app.
Step 2: Scroll down and choose the Messages option.
Step 3: Scroll down and select the Unknown & Spam button.
Step 4: Tap the button to the right of Filter Unknown Senders to turn it on or off.
I have disabled the unknown sender filtering in the picture below.
Now that you know how to filter unknown messages on iPhone you can go back to the Messages app and you can switch between the messages from your contacts and unknown numbers by touching the tabs at the top of the app screen.
Find out how to turn off voicemail on iPhone 13 if you don't want people to be able to leave you any voice messages on your phone.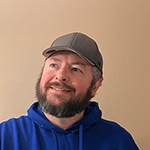 Matt Jacobs has been working as an IT consultant for small businesses since receiving his Master's degree in 2003. While he still does some consulting work, his primary focus now is on creating technology support content for SupportYourTech.com.
His work can be found on many websites and focuses on topics such as Microsoft Office, Apple devices, Android devices, Photoshop, and more.