Occasionally the pictures that you have from your camera, or even ones that you get from other sources, will be facing the wrong way.
But if you try and rotate the images, you may not get the effect that you want.
Fortunately, our guide below on how to mirror image in PPT presentations will show you another image editing option that can flip the picture horizontally or vertically instead.
How to Create a Mirror Image in Microsoft Powerpoint
Open your presentation.
Select the slide with the image.
Click on the image.
Choose the Picture Format tab.
Click the Rotate button.
Select Flip Horizontal.
Our article continues below with additional information on how to mirror image in PPT, including pictures of these steps.
Related Article: Check out this how to add someone to a group text article if you want to include other contacts in your existing text conversations.
Microsoft Powerpoint slideshows provide you with an assortment of tools and formatting options that let you customize the information and media that you include in your slides.
Some of these tools are feature-packed, such as the picture tools. You can even mirror an image in Powerpoint after you have added it to your slide.
One method to add sophistication and visual flair to your Powerpoint slideshow for school, work, or just one that you are making for fun, is to add some pictures to your slides. It's much easier to keep your audience focused on your presentation if you use things other than text, and pictures can be a great way to accentuate important ideas.
Unfortunately, not every picture that you create or find is going to be facing the way that your slideshow needs it to face, so you might need to make some adjustments.
Whether it's a simple shape for which you need a reversed version, or it's a complex person or animal that you need facing the opposite direction, it's likely that you will eventually need to make some edits to pictures in Powerpoint.
Fortunately, you can make a mirrored or inverted version of a picture in PowerPoint by flipping it. An image can be flipped vertically or horizontally in Microsoft Powerpoint by following the steps mentioned below.
If you need your slideshow to play continuously on repeat, then read our how to loop a Powerpoint Office 365 guide and see how to set that up.
How to Flip an Image on a PowerPoint Presentation (Guide with Pictures)
The steps in this article were performed in the Microsoft Powerpoint for Office 365 version of the application.
Step 1: Open your slideshow in Powerpoint.
Step 2: Choose the slide from the column at the left of the window that contains the picture you want to flip.
Step 3: Click on the picture once so that it is selected.
Step 4: Select the Picture Format tab at the top of the window.
Step 5: Click the Rotate button in the Arrange group of the ribbon.
Step 6; Select the Flip Horizontal option or the Flip Vertical option.
There is also a More Rotation Options button with additional rotate options for the selected picture. Choosing that item from the dropdown menu unlocks additional options where you can scale the image, adjust the height and width, and much more.
Note that if you choose flip vertical or flip horizontal two times then your mirror images will return to their original state.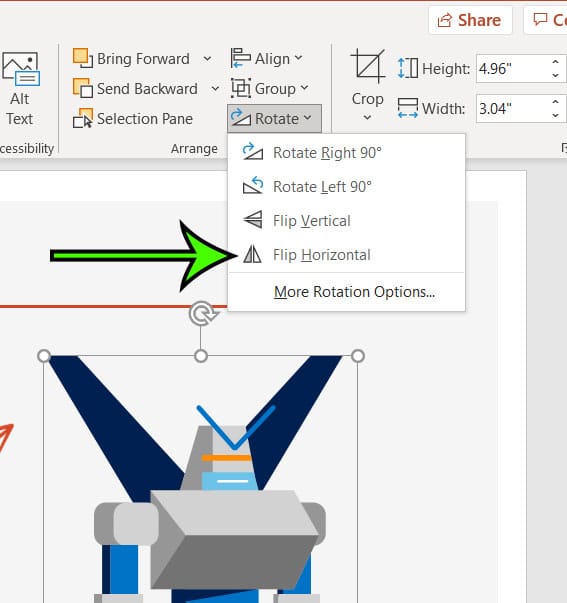 Now that you know how to mirror image in PPT files, you won't ever have to accept the fact that an image in one of your slides is facing the wrong way.
When you click the Format Picture tab at the top of the window, you are going to have a surprising number of ways to modify the original image that you added to the slideshow.
So after you click Rotate and choose to flip your image horizontally or flip your image vertically, take a minute to explore the other editing tools and see if there is something else that may be useful.
Our tutorial continues below with additional information on how to reverse the text in an object that you have already flipped so that the text is facing the desired direction.
Note that this will not allow you to rotate text that is part of an image. This is meant for objects or text boxes that you have created in Powerpoint.
How to Reverse Text in a Flipped Object in Powerpoint
When you move an object (such as a text box), any text contained within it moves as well. However, the rotation tool does not automatically rotate text inside a flipped item. In PowerPoint, you may invert an item and the text inside of it by following these steps.
Right-click the item you wish to invert, then select Format Shape from the menu. Alternatively, you could click on the object then choose the Shape Format tab at the top of the window.
Choose the Effects tab at the top of the Format Shape column, underneath Shape Options. Enter 180 degrees inside one of the Rotation boxes (X Rotation, Y Rotation, or Z Rotation) under 3-D Rotation.
The fill color of your item can also be changed. In the Fill and Line tab of the Format Shape column, you can change the fill color from a variety of options that include solid colors, patterns, gradients, and more.
When you click inside an object to edit the text, it will momentarily revert to its original state (so that the text is readable from left to right) while you work on it. When you finish changing text and click outside the item, the inverted appearance will be reinstated.
More Information on How to Mirror Image – Powerpoint
One other option available to you if this isn't working in Powerpoint is to open the image in another application. There are a number of image-editing applications available, both for free and for purchase. However, you probably have one on your Windows 10 computer already called Paint.
If you open an image in Microsoft Paint you will be able to use a number of different editing tools to help you achieve the desired look for the image. Once you are done in that application you only need to save the file then insert the saved picture into your slide.
Our guide above focuses specifically on flipping an image horizontally, as it would appear if you were looking at that image in a mirror. However, the Rotate menu on the Picture Format tab also lets you choose to rotate your image 90 degrees clockwise, 90 degrees counterclockwise, or to flip it vertically. if you hover your mouse on any of these options you will see what the result will look like.
One option you may want to consider, especially if you want to have multiple versions of the same image on your slide, is to right-click the image and choose the Copy option, then paste the copy onto the slide as well. You can then choose to flip one of those image versions horizontally so that you can see which version you prefer. Or you can just keep both copies of the image if that's what you need.
When you flip an image in a Powerpoint slide you are only affecting the version of the image that is appearing on your slide. If you are using a picture that you uploaded from your computer, for example, that picture will remain in its default orientation in the original picture file that is stored on your hard drive.
Final Verdict on the Mirror Image Powerpoint Tutorial
Microsoft apps are the ideal tools for all media junkies because of their functionalities and ease of use. By using the steps mentioned above, you can easily amplify your PowerPoint presentations by flipping and mirroring images or text boxes, as per your preferences.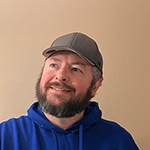 Matt Jacobs has been working as an IT consultant for small businesses since receiving his Master's degree in 2003. While he still does some consulting work, his primary focus now is on creating technology support content for SupportYourTech.com.
His work can be found on many websites and focuses on topics such as Microsoft Office, Apple devices, Android devices, Photoshop, and more.