Sometimes a picture that you add to a document in Google Docs won't be oriented properly.
You might think that you need to use an external image editing application to fix this problem, but there are actually some simple, handy tools in Google Docs that you can use to fix this.
By following the tutorial in our article and learning how to rotate a picture in Google Docs you can save yourself some time and hassle by simply performing the actions without leaving the application.
How to Turn a Photo to Landscape or Portrait in Google Docs
Sign in to Google Drive and open the document.
Click on the picture.
Click and hold on to the circular handle in the picture.
Drag the handle until the picture is rotated correctly.
This article continues below with additional information on how to rotate a picture in Google Docs, including pictures for each of the steps.
You can read our article on how to flip an image in Google Docs for additional discussion about this topic.
Sometimes a picture that you take with a digital picture will be flipped to landscape or portrait orientation despite the orientation that you intended it to have.
This also applies to some pictures that you find online, as the person that uploaded it may have flipped it on the website rather than with an image editing program.
Regardless of the reason why a picture might be rotated incorrectly, you might find yourself needing to adjust the rotation of a picture that you've added to your Google document file.
Our guide below will show you how to rotate a picture in Google Docs.
Find out how to flip a picture in Word if you have images in Microsoft Word documents that you need to fix as well.
How to Rotate Google Docs Images (Guide with Pictures)
The steps in this article were performed in the desktop version of the Google Chrome Web browser, but will also work in desktop versions of other Web browsers as well.
Step 2: Find the picture to rotate and click on it.
Step 3: Click and hold on the circular handle extending from the picture.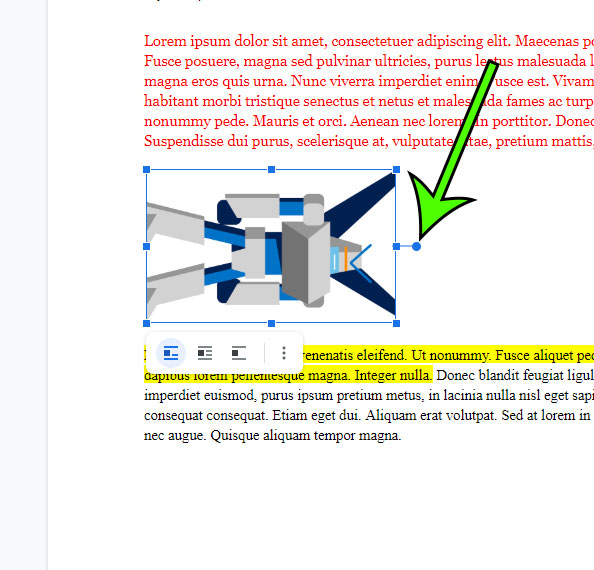 Step 4: Drag the handle to rotate the picture to the desired orientation.
Now that you know how to rotate a picture in Google Docs you will be able to fix many of the image issues that you encounter as you import images from other sources.
You can also rotate a picture by clicking on it, clicking the Image options button, selecting the Size & Rotation tab then using the options under Rotate.
Our article continues below with additional discussion about working with a rotated image in Google Docs.
Would you like people to be able to click a picture and go to a Web page? Then read our how to link an image in Google Docs article to find out how.
More Information on Image Rotation in a Google Doc
Notice when you click the image icon in your Google Doc that there is a drop down menu that appears below the image.
If you choose one of the options listed there you will be able to change the way that your document text wraps around the image.
This is a great way to use up some of the white space in a Google Docs document that appears once you insert an image, as you will be able to wrap the text around the image so that it seems to be more on an ingrained part of the document.
The vertical dots that appear under the image and next to the text wrapping options contain a menu bar with additional items like Size & rotation, Adjustments, and All image options.
Aside from being able to rotate images if you select the Size & rotation options, you can also rotate an image by a specific number of degrees, or you can change its scale.
One other way that you can rotate an image in Google Docs is to click the Insert image icon in the toolbar above the document, then add the file to your document from your computer, Google Photos, or even if you want to copy image URL information from another Web page.
You can then use the rotate image or options to flip images that we discussed on the image settings menu in our tutorial above.
A final thing that you might want to do is open the Drawing window, then add your picture that way. You can find this by going to Insert > Drawing > New.
There you will be able to rotate an image to the correct orientation by clicking the blue circle and dragging the image in the manner that you want to rotate it.
Or you can right-click on the image and choose from the options found on that shortcut menu, including things like flipping the image horizontally or flipping the image vertically.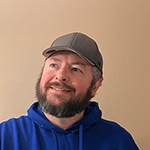 Matt Jacobs has been working as an IT consultant for small businesses since receiving his Master's degree in 2003. While he still does some consulting work, his primary focus now is on creating technology support content for SupportYourTech.com.
His work can be found on many websites and focuses on topics such as Microsoft Office, Apple devices, Android devices, Photoshop, and more.