If someone has been trying to send you pictures or other files via the AirDrop service on your iPhone, then they might be struggling to find you. Find out how to change your AirDrop name on iPhone 11 if the current name is wrong, or could be improved.
How to Update the Name for AirDrop on Your iPhone
​Open the Settings app.
​Choose the General option.
Select the About option.
Touch the Name button.
Tap the x to delete the current name, then enter the new name.
Our guide continues below with additional information on how to change your AirDrop name on iPhone 11, including pictures of these steps.
There are a number of ways that you can send files to someone from your iPhone. Whether it's via iMessage, email, or a third-party app, sharing files like pictures or videos can be accomplished rather easily.
One other way that you could send someone files, however, is via a file transfer service called Airdrop. Using Airdrop on an iPhone 11 is fast and easy, and many people that start using it find it to be one of the more efficient ways to send files to their contacts.
But an important element of Airdrop is that people sending and receiving files from you need to be able to identify you easily.
If your name is something generic or incorrect, then this could be a problem.
Fortunately, it's possible to change your Airdrop name on your iPhone 11 by adjusting a setting found in the General section of the Settings menu.
Wondering about your hotspot name, too? Check out the answer to "Can I change my hotspot name on iPhone" and learn what that entails.
How to Change Your iPhone's Airdrop Name (Guide with Pictures)
The steps in this article were performed on an Apple iPhone 11, in iOS 13.3.1. Note that by updating your Airdrop name you will also be changing the name of your iPhone, which also affects other things such as Bluetooth and WiFi identification.
This will also work on almost any other iOS device, such as iPads and other iPhone models.
Step 1: Tap the Settings icon.
Step 2: Scroll down and choose the General option.
Step 3: Touch the About option at the top of the menu.
Step 4: Select the Name option.
Step 5: Tap the small x to delete the current name, then type in the new name that you would like to use for Airdrop. You can then tap Done on the keyboard or touch the About button at the top-left of the screen to exit this menu.
Our tutorial continues below with additional discussion about how to change your Airdrop name on iPhone 11.
Additional Information on How to Switch Your iPhone's AirDrop Name
Changing your Airdrop name will also affect things like how your iPhone is identified in iCloud and iTunes.
You can also change your Airdrop name on a Mac, but the process is slightly different. Open the System Preferences app, choose the Sharing option, then edit the Computer Name.
An iPod Touch Airdrop name can be changed in the same manner as an iPhone.
The ability to change your device name on Apple devices in this manner is very beneficial in identifying mobile devices more easily on Wi-Fi networks. If you have or manage a wireless network with a lot of devices, device management can be helped significantly by ensuring that all devices have appropriate device names.
You can change the device name on an Apple Watch by opening the Watch app on your iPhone, choosing the My Watch tab, selecting General, then About, then Name.
The method for changing the Airdrop name is not very different on most models of iPhone, or most versions of iOS. For example, if you have an iPhone X using iOS 11, these steps would be the same.
Changing the Airdrop name is also going to change your personal hotspot name when you attempt to connect other devices to your iPhone.
Find out what Do Not Disturb means on your iPhone 11 if you are curious about using that feature.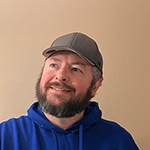 Matt Jacobs has been working as an IT consultant for small businesses since receiving his Master's degree in 2003. While he still does some consulting work, his primary focus now is on creating technology support content for SupportYourTech.com.
His work can be found on many websites and focuses on topics such as Microsoft Office, Apple devices, Android devices, Photoshop, and more.