Your iPhone provides a number of ways to manage storage, including some options that occur automatically.
Find out how to change the delete messages after 30 days setting on iPhone and keep your text messages for a longer period of time.
How to Not Delete Messages After 30 Days on iPhone
Open the Settings app.
Select Messages.
Touch the Keep Messages button.
Tap the Forever option.
Our article continues below with additional information on changing the delete messages after 30 days setting on iPhone, including pictures of these steps.
You can check out our strikethrough text iPhone guide for steps on how to draw a line through text ins some of the apps on your phone.
Text messaging has exploded in popularity so much that it is the dominant means of communication for many people.
But this popularity means that you can end up with a lot of conversations that can contain a ton of messages.
Your iPhone may currently be configured to delete text messages automatically after 30 days, or possibly a year. This is helpful in managing the space that the messages take up, but it can wind up deleting important information.
If you would prefer that your iPhone not delete these old messages, you can change a setting to prevent it.
Our guide below will show you how to make your iPhone stop deleting old text messages after 30 days.
Read our tutorial that answers the question of what does delivered mean on iPhone if you've seen that notification and wondered what it meant.
How to Turn Off Automatic Message Deletion on iPhone (Guide with Pictures)
The steps in this article were performed on an iPhone 11 in iOS 13.6.1.
Step 1: Tap the Settings icon.
Step 2: Scroll down and choose Messages.
Step 3: Scroll down and touch the Keep Messages button.
Step 4: Select the Forever option.
Now your iPhone will keep your text and iMessages indefinitely, or until you elect to delete them yourself.
If you were curious about the "Delivered" message on your text messages, then our what does delivered mean on iPhone article can help to clarify it.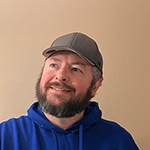 Matt Jacobs has been working as an IT consultant for small businesses since receiving his Master's degree in 2003. While he still does some consulting work, his primary focus now is on creating technology support content for SupportYourTech.com.
His work can be found on many websites and focuses on topics such as Microsoft Office, Apple devices, Android devices, Photoshop, and more.