Typically when you don't touch your iPad for a couple of minutes, the screen will turn off and the device will lock. This serves the purpose of saving your battery life, while also ensuring that you don't accidentally perform any actions while the iPhone is in a pocket or a bag.
But it's possible that your iPhone screen isn't turning off, which is forcing you to manually lock the screen by pressing the Power button on the top of the device. If this is occurring then you may need to change a setting on your iPhone so that the screen will once again turn off on its own.
You can change some other related settings, like the brightness. Check out this how to adjust brightness on iPhone 13 tutorial to learn how.
How to Make your iPhone 7 Screen Turn Off After Inactivity
The steps in this article were performed on an iPhone 7 Plus in iOS 12.2.
This guide is going to show you where to find and adjust the amount of time that your iPhone will wait before shutting off the screen automatically.
Step 1: Open the Settings menu.
Step 2: Choose the Display & Brightness option.
Step 3: Select the Auto-Lock button.
Step 4: Choose the amount of time that you want your iPhone to wait before turning off the screen.
Note that some apps will keep the screen on regardless of this setting. This is common for entertainment apps, such as streaming video services, games, and ebook reading apps.
If changing this setting isn't causing your screen to turn off, then try restarting your iPhone by pressing and holding the Power button, then sliding the button to power off the device. You can restart it after a minute or so by holding down the Power button.
Are you adjusting the notification settings on your device and curious about some of them? Find out what a badge app icon is so you can determine whether or not it's something that you want to use.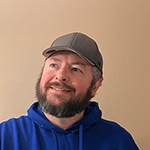 Matt Jacobs has been working as an IT consultant for small businesses since receiving his Master's degree in 2003. While he still does some consulting work, his primary focus now is on creating technology support content for SupportYourTech.com.
His work can be found on many websites and focuses on topics such as Microsoft Office, Apple devices, Android devices, Photoshop, and more.