While some types of documents that you create in word processing applications like Microsoft Word or Google docs will require more than one column, a majority of them will only need one.
So if you have previously created a document with two or more columns, or you have received a document with too many, then you might be wondering how to delete columns in Google Docs.
Fortunately, the tool that lets you add a column to a document can also be used when you need to reduce the number of document columns, too.
How to Remove Columns in Google Docs
Open your document.
Click the Format tab.
Choose Columns.
Select the desired number of columns.
Our guide continues below with additional information on how to delete columns in Google Docs, including pictures of these steps.
The rulers in Google Docs can be helpful, but people can also hide them to get them out of the way. You can visit our how to show vertical ruler in Google Docs guide if the rulers are missing and you want to use them.
Are you working on a document in Google Docs that contains columns, and you would either like to remove one of those columns, or you would like to revert the document to a standard, one-column one? Luckily this is a setting that you can modify in Google Docs.
Whether the columns in the document are there because you added them, or you received a document from someone else that contained columns, there are a number of reasons to learn how to get rid of columns in Google Docs.
Our guide below will show you where to find this setting so that you can either remove all of the columns or reduce the number of columns.
Our how to make Google Docs vertical text guide can show you an interesting tool in Google Docs that lets you add some useful elements to your documents.
How to Change the Number of Columns in Google Docs (Guide with Pictures)
The steps in this article were performed in the desktop version of Google Chrome, but will work in other modern desktop browsers as well.
Step 1: Sign into your Google Drive at https://drive.google.com and open the document containing the columns.
Step 2: Click the Format tab at the top of the window.
Step 3: Choose the Columns option, then click the image with the desired number of columns.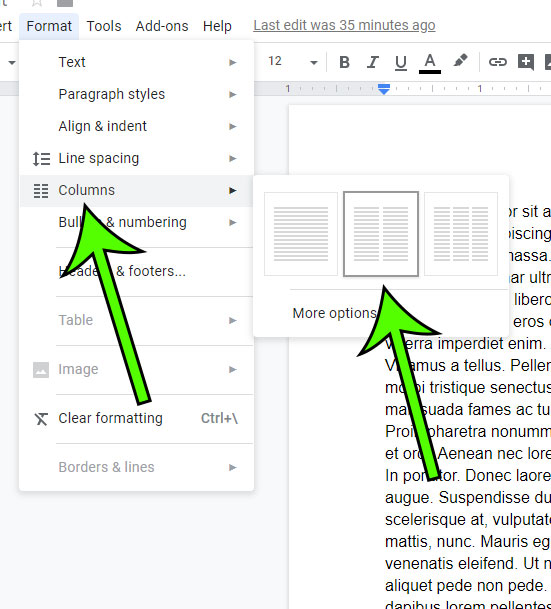 Now that you know how to delete columns in Google Docs you will be able to quickly and easily adjust the number of columns in any document that you are editing in the application.
If you are trying to remove a column from a table in your document then you will need to go about that in a different way.
Right-click inside one of the cells in the table column that you want to remove, then select the Delete column option from the shortcut menu. Note that this will also delete the data contained within the cells in the column.
Are your margins either too big or too small? Find out how to change margins in Google Docs if you want to increase or decrease them.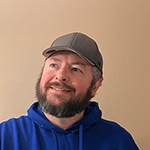 Matt Jacobs has been working as an IT consultant for small businesses since receiving his Master's degree in 2003. While he still does some consulting work, his primary focus now is on creating technology support content for SupportYourTech.com.
His work can be found on many websites and focuses on topics such as Microsoft Office, Apple devices, Android devices, Photoshop, and more.