The Apple Maps app on your iPhone is an effective way for you to get directions to a destination. It integrates with a variety of different features on the device, too, so it can even estimate travel times. But if Apple Maps is giving you directions in the wrong type of travel mode, then you may be looking for a way to change that.
When you try to get directions in Apple Maps, those directions can vary, especially in their duration, based on the travel type that is currently set in the app. You have the ability to get directions for walking, driving, public transit, or cycling. While you can switch between these modes in the app, you might prefer to change the default.
Our guide below will show you where to find the setting that controls the default travel type so that you can pick a different one than what is currently being used.
How to Change Default Travel Mode in Apple Maps
Open Settings.
Choose Maps.
Select a preferred type of travel.
Our article continues below with additional information on changing the default travel mode in Apple Maps, including pictures of these steps.
How to Switch Between Default Travel Directions in Apple Maps (Guide with Pictures)
The steps in this article were performed on an iPhone 11 in iOS 14.3.
Step 1: Open the Settings app on your iPhone.
Step 2: Scroll down and select the Maps option.
Step 3: Tap the preferred mode of transportation under the Preferred Type of Travel section.
Now when Maps is giving you directions or estimated travel types it will use the option that you have selected.
Note that this does not affect other maps or navigational apps that you use, such as Google Maps or Waze. You will need to change settings in those apps as well.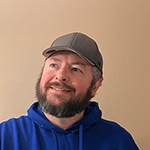 Matt Jacobs has been working as an IT consultant for small businesses since receiving his Master's degree in 2003. While he still does some consulting work, his primary focus now is on creating technology support content for SupportYourTech.com.
His work can be found on many websites and focuses on topics such as Microsoft Office, Apple devices, Android devices, Photoshop, and more.