Have you ever come across a piece of writing that utilized the "all caps" style of writing yet appeared to be formatted in a slightly different way?
If they weren't using a unique font, it's quite probable that what you noticed was the small capitals effect in Word. This is especially likely if they were using an unusual typeface.
Our tutorial about how to use small caps in Word documents continues below with more information on this topic.
How to Apply Small Caps Formatting in Word
Open the Word document.
Choose the Home tab.
Select the tiny Font Settings button.
Check the box next to Small caps.
Click the OK button.
Our guide continues below with additional information on how to apply this type of formatting, including pictures of these steps.
If you use the default settings in Microsoft Word to type in a document, you will obtain a combination of capital and lowercase characters. This is because Microsoft Word does not distinguish between the two.
However, there are some circumstances in which you will need to make use of small caps in Word. Small caps are a condensed form of the capital versions of letters.
You'll be relieved to know that this is something that may be achieved by simply modifying one of the font settings within Word.
You can begin typing in small caps as soon as you locate this setting by following the tutorial that we have provided for you below. You merely need to make one little tweak to the process in order to apply small caps to already written text if you want to convert it into another format.
Related: Do you need to use the ruler, but you don't see it? Our guide on showing the ruler in Word can help you out.
How to Use Word 2016 Small Caps
This section assumes that you want to type in small caps rather than converting existing text to small caps.
If you have a document with existing text that you want to turn into small caps, you will need to select the text first before completing steps two through four below.
Step 1: Open your Microsoft Word document.
Step 2: Select the Home button next to File at the top of the window.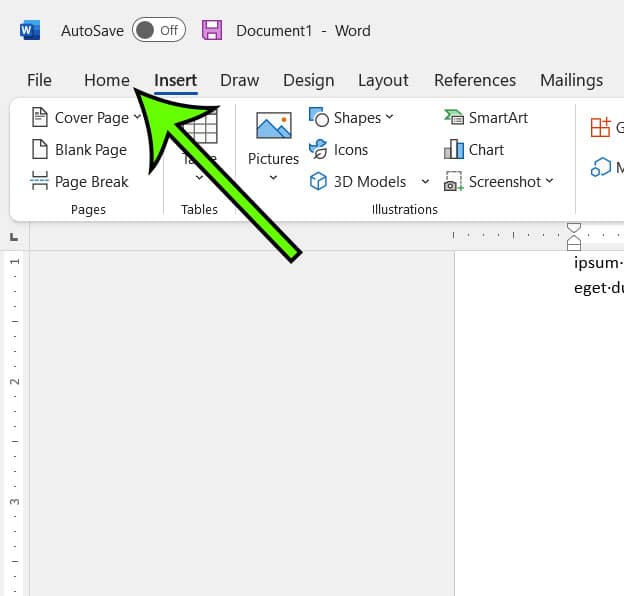 Step 3: Click the Font dialog box launcher.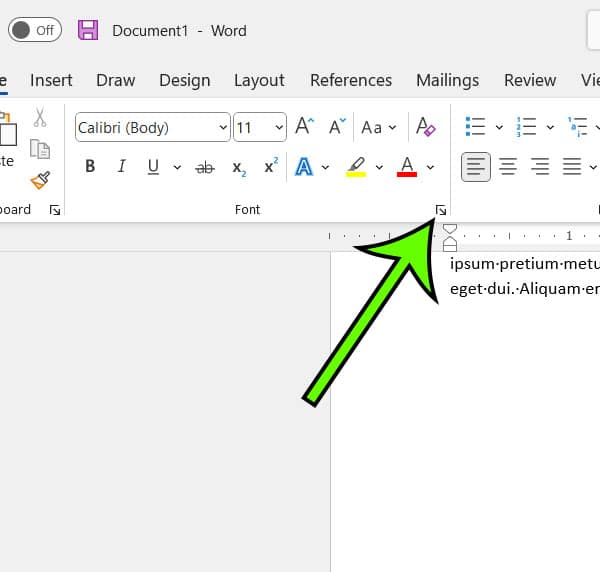 Step 4: Click the Small caps box to enable it, then select the OK button at the bottom of the window.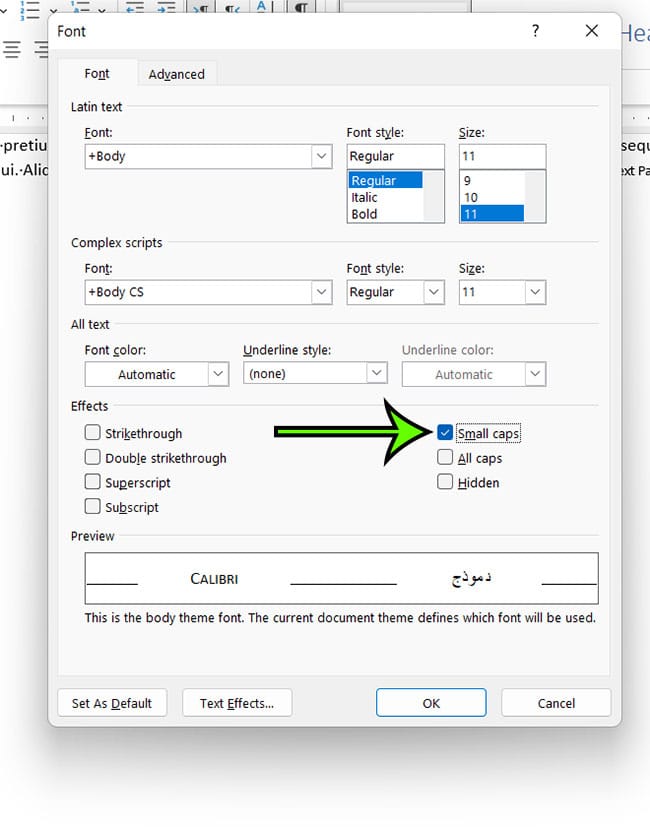 Now that you know how to use small caps in Word documents, you will be able to select parts of your documents and use this style whenever it's necessary.
Frequently Asked Questions About How to Apply the Small Caps Font Effect in Microsoft Word
In Word 2016, how do you type in small caps?
The procedure described in this article is the same as how to use small capitals in Word 2016. Select "Small capitals" from the "Font" drop-down menu, then click "OK" on the "Home" page.
In Word for Mac, how do you type in small caps?
To change existing text to tiny capitals, either click the desired location or select the text you wish to change. Right-click and select "Font." After selecting "Small Caps," click "OK."
How do little caps appear?
Any text that is formatted in small caps will appear to have been typed entirely in capital letters, much like when you press Caps Lock or hold down the Shift key.
These letters will, however, be smaller than the outcome if you had typed all capital letters normally.
What typeface are the small caps in?
Whichever font is currently chosen from the "Font" dropdown menu on the "Home" tab will be used for your tiny caps formatting.
When the small caps formatting is used, be in mind that not all typefaces will appear good or even be readable.
Before you select a typeface that you like, you might need to experiment with a few others.
How do I get Microsoft Word to stop using small capitals when I type?
The instructions above were specifically for typing in tiny caps in a Microsoft Word document, but you may apply them to cease typing in small caps as well.
After clicking Home, select Font. To make the changes permanent, uncheck the Small capitals check box in the Font window and then click OK.
The effects of using small caps will no longer be used when you type.
How can I change all of the text in a Word document to tiny caps?
You can use your mouse to choose the text to convert if you have some text in your document that you want to be in tiny caps but don't want to retype it.
Then, as was mentioned above, select the Font option, tick the Small capitals checkbox, and then click OK.
Now the chosen text will appear in tiny capitals.
Keep in mind that if the initial letter was originally capitalized, it could be larger.
Is there a keyboard shortcut in MS Word that allows you to switch between tiny caps and lowercase letters?
Yes, there is probably a quicker solution if you frequently flip between small uppercase letters and lowercase letters rather than going through the Font group and checking the small caps checkbox.
You can type in small caps by pressing the keyboard shortcut Ctrl + Shift + K.
Using the keyboard shortcut Ctrl + Shift + K, all the letters in a selection of uppercase and lowercase text can be changed to small caps.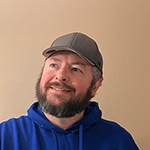 Matt Jacobs has been working as an IT consultant for small businesses since receiving his Master's degree in 2003. While he still does some consulting work, his primary focus now is on creating technology support content for SupportYourTech.com.
His work can be found on many websites and focuses on topics such as Microsoft Office, Apple devices, Android devices, Photoshop, and more.