While you might have worked with headers in word-processing applications like Microsoft Word, many other applications let you customize headers, including Microsoft Excel.
You can also use the header for things other than a document title or page numbers.
Our how to insert picture in Excel header guide below will show you how to add a picture to that section of your spreadsheet so that it appears in the background of every printed page of the spreadsheet.
How to Add a Picture to the Header in Excel for Office 365
Open the workbook.
Select Insert.
Choose Header & Footer.
Select a header section and click Picture.
Find the picture and select it.
Our how to insert picture in Excel guide continues below with additional information on how to insert pictures in a header box of a Microsoft Excel spreadsheet, including pictures of these steps.
Related: Wondering how to send text messages to multiple people? This how to add someone to a group text guide can help.
Adding pictures to a file is something that many people will associate with Microsoft Word or Powerpoint before they associate it with Excel, but there are many reasons why adding images to a spreadsheet can be useful.
This how to insert picture in Excel header guide provides a simple series of steps that you can use when you need to put a company logo, or another type of image at the top of the page.
Whether you have a listing of products that your company sells and prospective customers want to see what they're buying, or you are keeping an inventory of a personal collection, the ability to add images to your cells can be useful.
But what if you are creating a spreadsheet for your work, and one of the requirements is to include the company logo in the header? This can be tricky if you've never had to do it before.
Our guide below will show you how to add a picture to the header in Excel so that it appears on every printed page of the spreadsheet.
Learn how to remove a page 1 watermark in Excel if you are seeing it on your screen and it's affecting your ability to work.
How to Put an Image Into a Header in Microsoft Excel for Office 365 (Guide with Pictures)
The steps in this article were performed in the Excel for Office 365 version of the application.
Step 1: Open your file in Excel.
Step 2: Click the Insert tab at the top of the window.
Step 3: Select the Header & Footer option in the Text section on the right side of the window.
Step 4: Choose the section of the header where you want the image, then click the Picture button in the Header & Footer Elements section of the ribbon.
Step 5: Select the location where the picture is stored from the "Insert Picture" dialog box.
Step 6: Browse to the picture and select it. Once added, you should see the &[Picture] text inside the header box as shown in the image below.
Now that you know how to insert picture in Excel header, there are some more image formatting and insertion options that you can familiarize yourself with.
Our tutorial continues below with additional discussion about using the header and footer tools to insert custom header or footer images in a spreadsheet.
Do you struggle to see the borders of your cells? Find out how to make lines darker on Excel by adjusting a setting on the Excel Options menu.
How to Insert Header Picture in a Microsoft Excel Spreadsheet
If you click inside one of the cells in the spreadsheet you will be able to see what the picture will look like with its current settings.
In many cases, that picture is probably going to be larger than you thought. You can adjust the size of the picture in the header by clicking the Format Picture button next to the Picture button from Step 4 above, then adjusting the Height and Width accordingly.
Note that the Format Picture dialog box in the image above gives you some additional options in terms of how you can adjust the size and rotation of an image that you added to your header or footer box. Aside from eh Height and Width values you see options for:
Rotation
Scale – Height and Width
Lock aspect ratio
Relative to original picture size
If these aren't providing you with everything that you need, another option would be to go to the Page Setup menu.
This Microsoft Word print without comments article can help you to adjust the document print settings so that you don't include comments and other markup on your document printouts.
How to Open the Page Setup Dialog Box in Microsoft Excel
After you click the Insert Picture button to place an image in your Excel worksheet, you may not be done with all of the customization options that you need.
By selecting the Page Layout tab at the top of the window, then clicking the small Page Setup dialog launcher at the bottom-right corner of the Page setup group you are going to see a number of other ways to customize your spreadsheet.
One particularly important option here in relation to the focus of this article is the Header/Footer tab at the top of the window.
Once that tab is active in the Page Setup dialog box you are going to see a few new options, such as:
Custom Header
Custom Footer
Footer dropdown menu
Different odd and even pages
Different first page
Scale with document
Align with Page margins
Print
Print Preview
Options
If you click the Custom Header button or the Custom Footer button it will open a new Header dialog box or Footer dialog box.
These dialog boxes contain many of the same controls that you would find in the Header or Footer Elements group of the ribbon, while also providing you with ways to type custom header or footer information while you are formatting the header or footer area of your spreadsheet.
You can also use these menus if you need to delete header or footer information from your spreadsheet.
Once you are done with your customizations you can open the File menu from the top left corner of the window and select Print to see what your printed workbook will look like.
Trying to record a macro, but you can't figure out how? Find out how to add the Developer tab in Excel for Office 365 to gain access to some additional features of the application, including macros.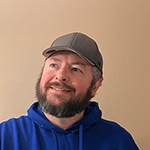 Matt Jacobs has been working as an IT consultant for small businesses since receiving his Master's degree in 2003. While he still does some consulting work, his primary focus now is on creating technology support content for SupportYourTech.com.
His work can be found on many websites and focuses on topics such as Microsoft Office, Apple devices, Android devices, Photoshop, and more.