When you create a slideshow in Google Slides, you typically have a specific audience in mind who will be viewing it. But occasionally you will need to give the same presentation to multiple groups, and parts of the presentation may not be relevant to both groups.
Does your slideshow have slide numbers that you don't need? Find out how to remove them.
While you may be considering creating two separate slideshows for this situation, you can actually choose to simply skip certain slides instead. Our tutorial below will show you how to skip a slide when you're presenting without actually removing that slide from the slideshow.
Skipping Slides in Google Slide
By completing the steps in this article you will be skipping a slide when you present the slideshow. The slide will still be a part of the slideshow, it will simply be skipped when presenting.
Step 1: Open the Slides file that you wish to modify from your Google Drive at https://drive.google.com.
Step 2: Locate the slide that you want to skip in the column of slides at the left side of the window.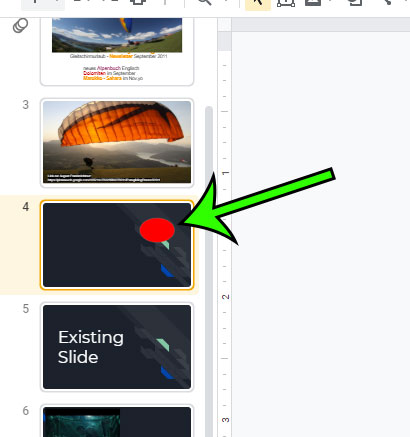 Step 3: Right-click that slide, then choose the Skip Slide option.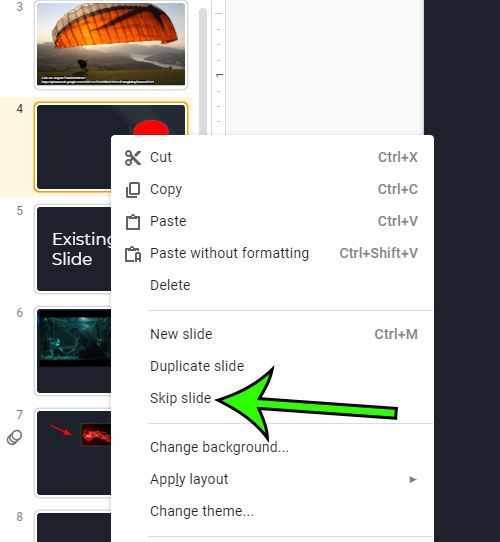 When a slide is set to be skipped it will be slightly grayed out with an eye on top of it, like in the image below.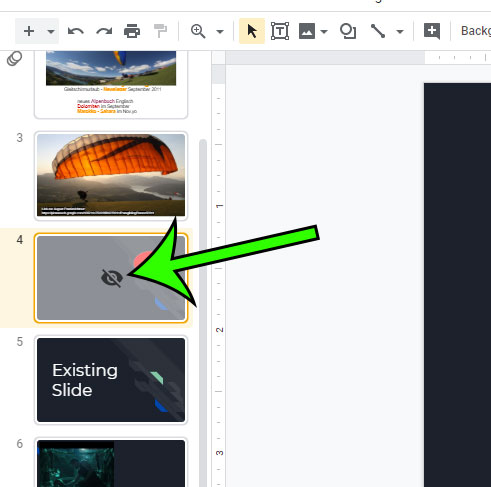 If you no longer wish to skip a slide when giving your presentation, simply right-click on that slide again and click the Skip Slide option again to remove the check mark.
Now that you know how to skip a slide in Google Slides you can customize your presentations by removing individual slides without deleting them.
You can add hyperlinks in Google Slides that go to Web pages, but also other slides in your presentation.
Once you're done with your presentation you may want to put it on a website so that others can view it. Find out how to embed a slideshow in a website so that it can be viewed by anyone at anytime from their Web browser.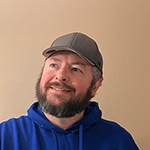 Matt Jacobs has been working as an IT consultant for small businesses since receiving his Master's degree in 2003. While he still does some consulting work, his primary focus now is on creating technology support content for SupportYourTech.com.
His work can be found on many websites and focuses on topics such as Microsoft Office, Apple devices, Android devices, Photoshop, and more.