On your iPhone 14, you can stop all system haptics by going to Settings > Sounds & Haptics and then unchecking the System Haptics option.
Our post continues below with more information on how to disable this setting, as well as screenshots of the processes.
For more details, watch this video on how to turn off system haptics on the iPhone 14.
Turning Off iPhone 14 System Haptics
The procedures in this post were performed using an iPhone 14 Plus running iOS 17.
These methods will also work for many other iOS versions and iPhone models, including the ones listed below:
iPhone 14
iPhone 14 Pro
iPhone 14 Pro Max
Step 1: Find the Settings app icon on your Home screen and tap it to open the menu.
Step 2: Scroll down to Sounds & Haptics.
Step 3: Scroll to the bottom of this menu and disable System Haptics by clicking the button to its right.
You can toggle this setting on or off depending on whether or not you want to use system haptics on iPhone 14.
It is critical to understand that system haptics are not the same as vibration.
If you've turned off system haptics but are still getting bothersome vibrations, you can disable that option by following the steps in our guide on how to turn off vibration on iPhone 14.
Disabling System Haptics in iOS Video
In Summary, Disabling System Haptics on Your iPhone
Navigate to Settings.
Select Sounds & Haptics.
Turn off System Haptics.
Related: How to Stop All iPhone 14 Vibrations
Conclusion
Haptics are a type of haptic feedback that you may receive on your iPhone when you perform certain actions or receive certain notifications.
While this function is crucial and has been significantly improved in iOS 17, you may dislike it and wish for the haptics to be disabled.
Fortunately, you can modify this setting on your smartphone, and removing it is straightforward.
Hopefully, our explanation of how to turn off system haptics on iPhone 14 has given you the information you need to customize your phone to your liking.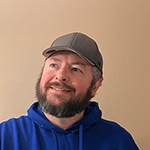 Matt Jacobs has been working as an IT consultant for small businesses since receiving his Master's degree in 2003. While he still does some consulting work, his primary focus now is on creating technology support content for SupportYourTech.com.
His work can be found on many websites and focuses on topics such as Microsoft Office, Apple devices, Android devices, Photoshop, and more.