Powerpoint users are able to add picture to their slides and perform a number of different formatting options on those images. But you may be wondering how to save a picture to your computer from Powerpoint if you have a picture in a slide that you want.
Microsoft Powerpoint offers a handful of different options when it comes to saving the presentation as a file. You have the default .pptx file type, but you can also save as a PDF, a video, and more. And if Powerpoint doesn't have the option you need, you can also convert it to a Google Slides file.
But you may only be interested in saving a single picture that appears on one of the slides so that you can edit that picture, or use it in a different type of document.
Fortunately it is possible to save a picture from Powerpoint using the steps outlined below.
How to Save a Picture to Your Computer from Powerpoint for Office 365
Open the slideshow.
Choose the slide with the picture.
Right-click on the picture.
Select the Save as Picture option.
Choose a location on your computer, then click Save.
Our guide continues below with additional information on saving a picture from Powerpoint to your computer, including pictures of these steps.
How to Save an Individual Picture from a Powerpoint Slide
The steps in this article were performed in the Microsoft Powerpoint for Office 365 version of the application, but will work in most other versions of Powerpoint as well.
Step 1: Open the Powerpoint presentation containing the picture that you want to save.
Step 2: Choose the slide from the left column that contains the picture you would like to save.
Step 3: Right-click on the picture to save.
Step 4: Select the Save as Picture option from the right-click menu.
Step 5: Choose a location on your computer for the saved picture, then click the Save button.
You can also elect to give the picture a new filename, if you so choose. Additionally you can click the Save as type dropdown menu and select from a handful of different options for the type of image file you want to save.
Find out how to change the slide size in Powerpoint if you would like to alter the dimensions or make the slides bigger or smaller.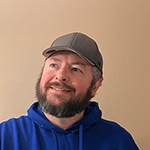 Matt Jacobs has been working as an IT consultant for small businesses since receiving his Master's degree in 2003. While he still does some consulting work, his primary focus now is on creating technology support content for SupportYourTech.com.
His work can be found on many websites and focuses on topics such as Microsoft Office, Apple devices, Android devices, Photoshop, and more.