Have you ever accidentally put an application into full-screen mode? This can happen to anyone, and it usually occurs because that application has a shortcut key that can toggle the window from regular to full screen mode. I know that I do it all the time in Google Slides, which is why it can be so useful to know how to print from Google Slides.
The Google Chrome Web browser on your Windows desktop or laptop computer is one such program that offers a full-screen shortcut, and it's fairly common for people to accidentally enter it. Our guide below will show you a couple of different ways that you can exit Google's full-screen mode if you have entered into it.
How to Get Out of Full Screen in Chrome
The methods in this article were performed on the desktop version of Google Chrome, on a laptop computer using Windows 10. You will know that you are in full-screen mode if you can't see your tabs or the bookmark bar at the top of the window.
Method 1: Press the F11 key at the top of your keyboard.
Method 2: Right-click anywhere in the full-screen Chrome window, then click the Exit Full Screen option.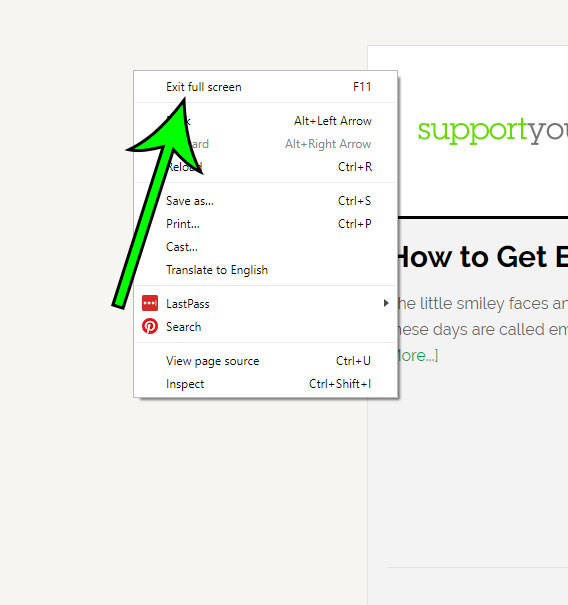 Now that you know how to exit full screen in Google Chrome, you can return to the default screen layout so that you can access all of the menu and navigational controls in the application.
Are you trying to print a Microsoft Word document, but you don't want them comments? Find out how to hide comments in Word if you need a version of your document that doesn't include them when you print.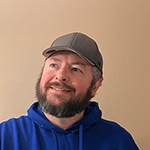 Matt Jacobs has been working as an IT consultant for small businesses since receiving his Master's degree in 2003. While he still does some consulting work, his primary focus now is on creating technology support content for SupportYourTech.com.
His work can be found on many websites and focuses on topics such as Microsoft Office, Apple devices, Android devices, Photoshop, and more.