The steps in this guide are going to show you how to select all of the text in a document in Google Docs, then change the color of all that selected text. We provide the list of steps at the beginning of the article, then go more into depth with pictures below.
Open the Google Docs document.
Click inside the document, then press Ctrl + A to select all of the text.
Click the Text color button.
Select the color that you want to use for the text.
The layout of the Google Docs application is pretty intuitive, and even users that are not familiar with it will usually be able to find the options or formatting that they need.
But there are certain elements of editing in Google Docs where the order that you do something is important, particularly when you want to make a uniform change to an entire document. Ideally you would make that change before you started writing or editing, such as if you wanted to use a different text color, but that might not always happen.
Fortunately you don't need to manually select all of your content, as there is an easy way to quickly select everything in Google Docs, then apply a change to that selection.
if your document has a background color that you don't want, then check out our guide on how to remove background color in Google Docs.
How to Select All of Your Text in Google Docs and Change the Text Color
The steps in this article were performed in the desktop version of the Google Chrome Web browser, but will also work in other browsers like Firefox or Edge.
Step 1: Sign into your Google Drive at https://drive.google.com and open the document that you wish to modify.
Step 2: Click inside of the document, then press Ctrl + A to select the whole document.
Step 3: Select the Text color button in the toolbar above the document.
Step 4: Click on the color that you wish to apply to the document text.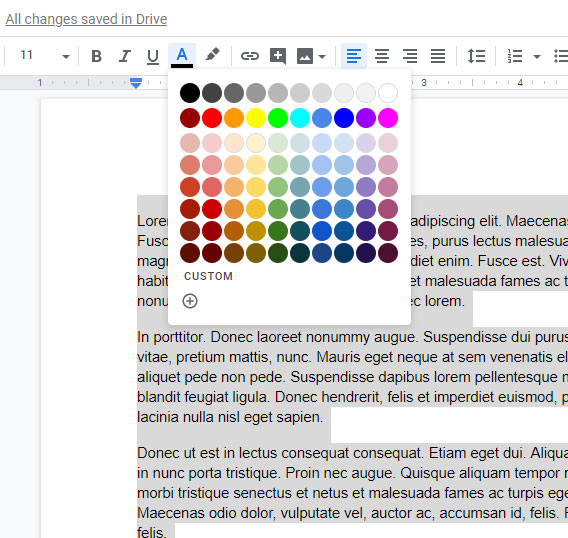 Note that you can also select all of the text in a document by clicking the Edit tab at the top of the window, then choosing the Select all option from that menu.
Now that you know how to change the color of all of your text in Google Docs, you can use this technique to make edits to large parts of your document at the same time.
Do you need more or less white space around your document? Find out how to change margins in Google Docs if your school or organization has specific margin requirements, or if you simply don't like the way the current margin settings look.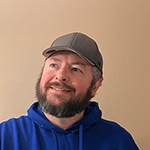 Matt Jacobs has been working as an IT consultant for small businesses since receiving his Master's degree in 2003. While he still does some consulting work, his primary focus now is on creating technology support content for SupportYourTech.com.
His work can be found on many websites and focuses on topics such as Microsoft Office, Apple devices, Android devices, Photoshop, and more.