By going to Settings > General > Keyboard > and then tapping the Predictive button on the right, you may disable the iPhone 14 predictive typing feature.
Our post continues below with further information about modifying the predictive option on the iPhone keyboard, as well as screenshots of these procedures.
Watch this video to learn how to switch off predictive typing on iPhone 14.
Turning Off iPhone Keyboard Predictive Text
The steps in this post were completed on an iPhone 14 Plus running iOS 17.
These methods are also applicable to many other iOS versions and the majority of iPhone models, including the following:
iPhone 14
iPhone 14 Pro
iPhone 14 Pro Max
Step 1: On your Home screen, find and tap the Settings icon.
Step 2: Scroll down to the General tab.
Step 3: Select Keyboard from this menu.
Step 4: Toggle Predictive off by tapping the button to the right of it.
The setting is deactivated if there is no green shading around the button. I've turned off predictive in the image below.
Now that you know how to turn off predictive typing on iPhone 14, you won't have to worry about accidentally using some of those suggestions when writing an email or text message.
If you discover that you truly enjoy utilizing the predictive option, you can always return to this menu and enable it again.
You may need to close and re-open the app if the prediction bar remains visible after changing this setting. Swipe up and to the left from the bottom of the screen (as if drawing a "7"), and then swipe the Messages app off the top.
Video of iPhone Predictive Typing
Disabling Predictive Typing in Summary
Go to Settings.
Choose General.
Select Keyboard.
Turn off Predictive.
Related: How to Delete Text Messages from Your iPhone 14
Conclusion
While the iPhone screen has grown larger and clearer over time, it can still be difficult to type precisely and effectively.
One possibility is what is known as predictive typing. Essentially, your iPhone will estimate what you're trying to enter based on previous input, and a series of suggestions will appear in a gray bar above the keyboard.
Then, touch one of the predictions to incorporate it into whatever you're writing.
However, if you aren't using this feature, it could be taking up screen space and selecting forecasts incorrectly.
Hopefully, our post on how to turn off predictive typing on iPhone 14 has provided you with the information you need to identify and change this setting so that you may improve the typing experience on your phone.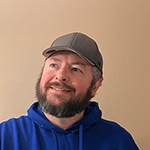 Matt Jacobs has been working as an IT consultant for small businesses since receiving his Master's degree in 2003. While he still does some consulting work, his primary focus now is on creating technology support content for SupportYourTech.com.
His work can be found on many websites and focuses on topics such as Microsoft Office, Apple devices, Android devices, Photoshop, and more.