Use these steps to turn off Do Not Disturb While Driving on an iPhone.
Step 1: Press the "Power" button on the side of the iPhone to illuminate the screen.
It may be located on the top of the device, depending on your iPhone model.
Step 2: Touch the "Do Not Disturb While Driving" notification on the lock screen.
It's a large gray alert notification with a picture of a car.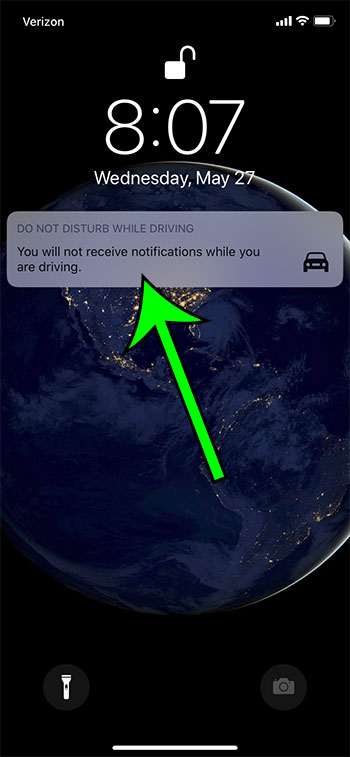 Step 3: Select the "I'm Not Driving" option.
This will exit Do Not Disturb mode so that you can use the iPhone as normal.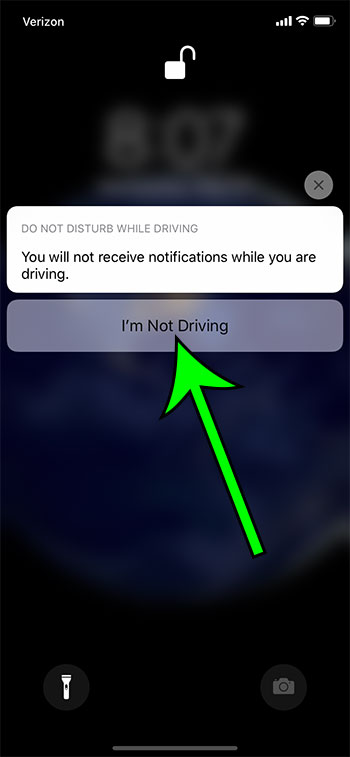 The steps above were performed on an iPhone 11 in iOS 13.4.1.
This guide assumes that "Do Not Disturb While Driving" is currently active on the device. If it's not then you will not see the notification above that we have indicated.
Alternatively you can turn off this feature on your iPhone by opening the Control Center, then tapping the car icon.
Your iPhone has a feature called "Do Not Disturb While Driving." This works in the same manner as the basic Do Not Disturb feature, except that it can be activated manually or automatically if the iPhone senses that you are in a car.
Unfortunately this happens if you're a passenger, or if you are on a mass transit vehicle like a bus or train. It isn't limited to drivers.
This article shows you how to disable the "Do Not Disturb While Driving" feature on your iPhone so that you can continue using the iPhone as normal when in a vehicle.
Frequently Asked Questions
How do I open the Control Center on my iPhone?
On iPhones without a Home button, swipe down from the top-right corner of the screen.
One iPhones with a Home button, swipe up from the bottom of the screen.
Can I remove "Do Not Disturb While Driving" from the Control Center?"
Yes, it can be removed.
Go to Settings > Control Center > Customize Controls then tap the red button to the left of "Do Not Disturb While Driving" to remove it.
How do I stop "Do Not Disturb While Driving" from turning on automatically?
Go to Settings > Do Not Disturb then tap the "Activate" button under "Do Not Disturb While Driving." You can then choose the "Manually" option and adjust the other settings to prevent the feature from activating on its own.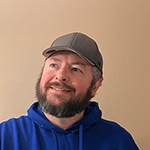 Matt Jacobs has been working as an IT consultant for small businesses since receiving his Master's degree in 2003. While he still does some consulting work, his primary focus now is on creating technology support content for SupportYourTech.com.
His work can be found on many websites and focuses on topics such as Microsoft Office, Apple devices, Android devices, Photoshop, and more.