The iPhone's Do Not Disturb feature is part of a feature called "Focus" on the smartphone.
This option lets you customize settings for things like work, sleep, and driving.
When you enable the iPhone's Driving Mode in the Focus menu, you will get far fewer notifications, allowing you to focus on the road ahead.
If you do not want to use this option or wish to disable it, our tutorial below will show you how.
Toggle Driving Mode on and off on an iPhone by opening the Control Center, tapping and holding the Focus button, and then selecting the Driving option.
For more information on this subject, watch this video on how to disable automatic driving mode on an iPhone 13.
Summary – Turn the iPhone's Driving Mode On and Off
Go to the Control Center.
Hold down the Focus button.
Choose Driving.
If you did not manually activate this setting and wish to prevent it from activating on its own in the future, go to Settings > Focus > Driving > then scroll down and click the While Driving button > then select Manually.
How to Adjust the iPhone's Driving Focus
Our article continues below with further information on how to disable driving mode on iPhone 13, including screenshots.
In many situations, your iPhone can be really distracting, so it's fantastic to be able to disconnect from all of its notifications sometimes.
One method is to use the device's Focus mode, which can be configured in the Settings app.
Driving is one of those alternatives, and you may configure your iPhone to decrease or eliminate alerts when driving. This feature can be turned on or off manually or automatically.
However, if Driving Focus mode is currently enabled and you want to disable it, the methods in the next section will show you how.
Related: How to Update Apps on iPhone 13
How to Turn on or Turn Off iPhone Driving Focus
The procedures in this post were performed on an iPhone 13 running iOS 17.
If Driving Focus is enabled, open the Notification Center or Control Center and look for a little automobile icon in the top-right status bar. If you see the car, it means Driving Mode is now activated.
Step 1: Swipe down from the top-right corner of the screen to access the Control Center.
On older iPhone models with a Home button, swiping up from the bottom of the screen instead activates the Control Center.
Step 2: Press and hold the Focus button.
If Driving Focus mode is currently enabled, you can turn it off by tapping the car icon.
Step 3: Enable or disable Driving Mode by tapping the Driving option.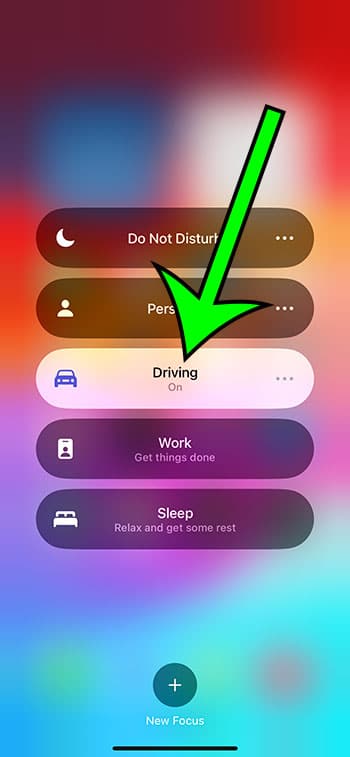 You can turn off driving mode on iPhone 13 whenever you choose, depending on whether or not you want to view warnings until you reach your destination.
Video of iPhone 13 Driving Mode
More Information about Driving Mode
Driving Focus for the iPhone is intended to keep you focused on the road by reducing distractions such as notifications and text messages.
When you set your iPhone in Driving Focus mode, the alerts are significantly reduced or even removed.
It does, however, support CarPlay, so if your phone supports CarPlay or Bluetooth, you may use it to answer a phone call or have Siri read a text message.
The method is the same whether you want to enable or disable iPhone Driving Focus. Simply open the Control Center, then press and hold the Focus and Driving buttons.
You can also alter several Driving Focus Mode parameters using the parameters app.
You'll find the following options if you go to Settings > Focus > Driving:
Allow Notifications -People – Notifications from specified contacts can be enabled.
Auto-Reply – enables you to send automated responses to certain groups of people.
Customize Screens – Choose one of your lock screens to use when in Driving Focus mode to help limit distractions.
Turn on Automatically – While Driving – selecting this option will take you to a new screen where you can choose whether Driving Focus should turn on automatically when connected to the car Bluetooth, manually, or with CarPlay.
Delete Focus – You can eliminate the Driving Focus option if you like.

ou've probably noticed that your iPhone has a few more Focus options. These options include Do Not Disturb, Driving, Sleep, Personal, and Work, and they are a great way to configure your iPhone so that you don't get notifications all day when you need to focus on a task or simply want to avoid phone distractions.
Focus mode can also be set to be shared across all of your devices that use the same Apple ID.
If you don't want to use this option and instead want to remove it from your device, there is a remove Focus button on this screen.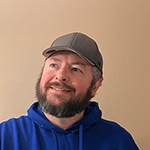 Matt Jacobs has been working as an IT consultant for small businesses since receiving his Master's degree in 2003. While he still does some consulting work, his primary focus now is on creating technology support content for SupportYourTech.com.
His work can be found on many websites and focuses on topics such as Microsoft Office, Apple devices, Android devices, Photoshop, and more.