Do you need to add your company logo to a document?
Or is there something that you are creating that would benefit from having a picture in the background of every page?
Microsoft Word has a tool that you can use which makes it possible for you to add an image to your document.
Our tutorial below will walk you through the steps needed to place an image behind your document content on every page in Word.
How to Include a Background Image in a Word Document
Open the document.
Choose the Design tab.
Click the Watermark button.
Choose the Custom Watermark option.
Check the Picture watermark option, then click Select Picture.
Browse to the image and select it.
Adjust the Scale and Washout settings, then click OK.
Our guide continues below with additional information on how to add a Word background image, including pictures of these steps.
If you're making a document in Microsoft Word that will prominently feature visual elements, such as a newsletter or a flyer, then you may consider adding a background image to the document as well.
Fortunately, Microsoft Word gives you the ability to add a background image or a watermark to a document, and you can even use your own custom image.
This article will show you how to add a background image in Word so that you can achieve the desired appearance for whatever you are creating in the application.
A similar technique can be used to add watermarks in Excel. Our Excel remove page 1 watermark article can instruct you on how to delete watermarks in your spreadsheet.
How to Add a Picture to the Background in Microsoft Word
The steps in this article were performed in the Microsoft Office 365 version of Microsoft Word that is included with a subscription. However, these steps will also work in most other versions of Microsoft Word.
We will be adding the image as a watermark in the steps below so that it appears on each page of the document. You can read our Google Docs – set background image article to see how to perform this action in Googles word processing application instead.
Step 1: Open your document in Microsoft Word.
Step 2: Select the Design tab at the top of the window.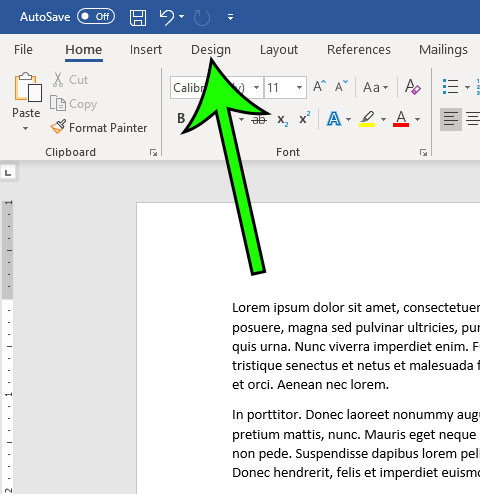 Step 3: Click the Watermark button in the Page Background section of the ribbon.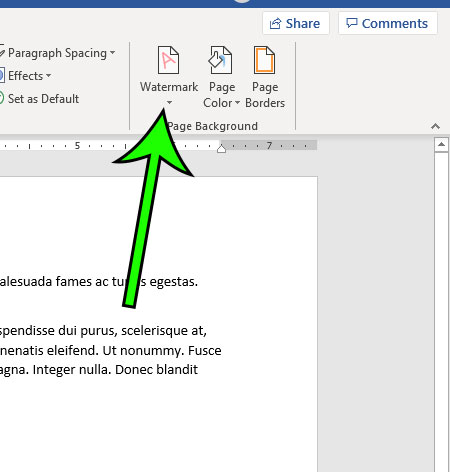 Step 4: Choose the Custom Watermark option at the bottom of the menu.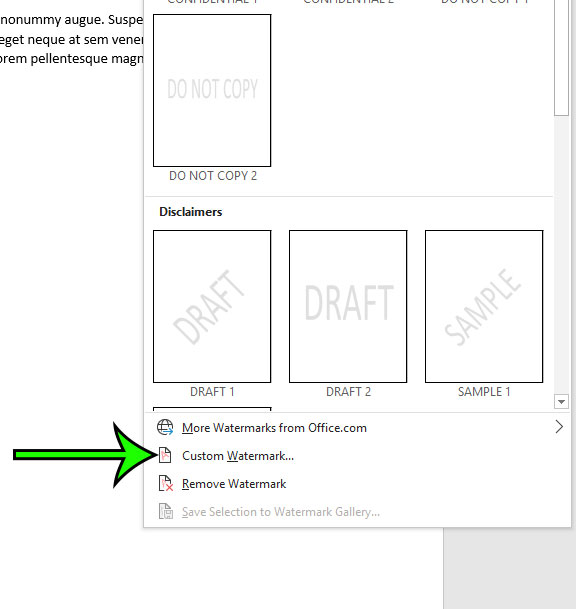 Step 5: Click the circle to the left of Picture watermark, then click the Select Picture button.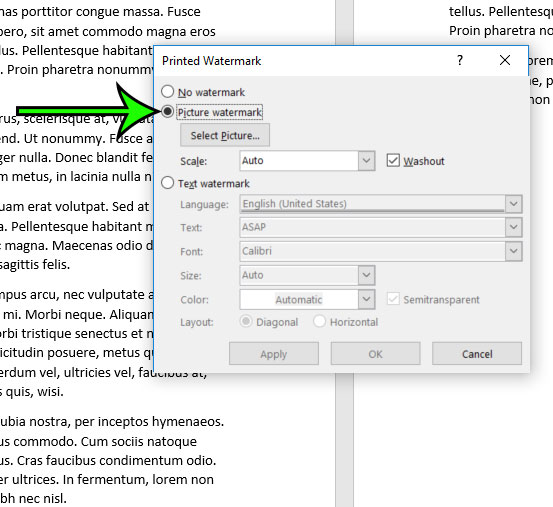 Step 6: Browse to the picture that you wish to set as your background, select it, then click the Insert button.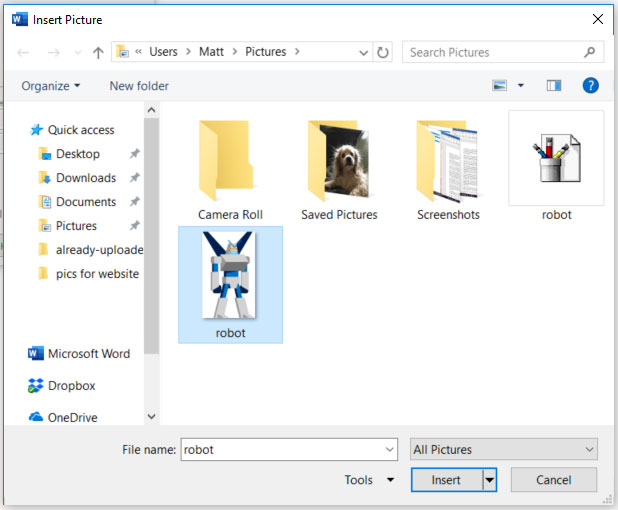 Step 7: Click the Scale dropdown menu and choose the scale for the image, select whether you wish to washout the image, then click the OK button.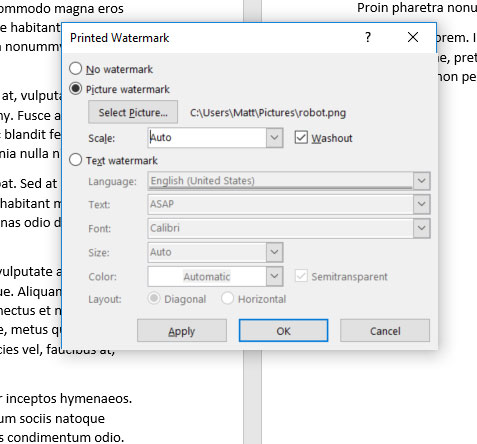 Now that you know how to add a Word background image you will be able to dramatically affect the appearance of your documents by using your own image, a company logo, or whatever the document might require.
You can check out our remove background Google Docs article for information on working with document backgrounds in that application as well.
Additional Notes on Customizing the Background in a Word Document
Adding a background image to your Word document in this manner is the same process that you would use to add a watermark.
After you have added the watermark to your document you can make some additional adjustments to it as well. For example, you can apply fill effects to the watermark, or you can elect to change the page color in the document.
A Microsoft Word document won't be able to print with a page color by default. If you would like to include a background color on your page when printing then you will also need to change a setting on the Display tab of the Word Options window. You will need to click the check box to the left of Print background color and images.
After you add the background picture, you may note that it is either too big or too small. If you select the Scale drop-down menu you will see a list of sizing options that you can use to scale the background image in the page layout.
Many pictures that you add to your document in this manner will take up the entire page. If that's not the desired result, then the point above about scaling the watermark is an effective solution.
There are many places that you can find pictures to use in your document. You can take a screenshot with the Print Screen button, you can download a picture from Google Images, or you could create your own picture using the camera on your smartphone.
Are there comments in your document that you don't want to include when you print? Find out how to hide comments in Word and only print the content of the document.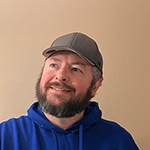 Matt Jacobs has been working as an IT consultant for small businesses since receiving his Master's degree in 2003. While he still does some consulting work, his primary focus now is on creating technology support content for SupportYourTech.com.
His work can be found on many websites and focuses on topics such as Microsoft Office, Apple devices, Android devices, Photoshop, and more.