The pictures in the background of a document can also be referred to as watermarks.
A lot of people use this Microsoft Word feature for company logos or if they want to indicate that a document is a draft, or confidential.
Our tutorial below will show you how to make a watermark in Word 2016 if you would like to start adding this type of element to the documents that you edit.
How to Create a Word 2016 Watermark
Open your Word document.
Choose the Design tab.
Click Watermark.
Select a watermark option.
Our guide continues below with additional information on how to make a watermark in Word 2016, including pictures of these steps.
Related: Check out our how to add someone to a group text guide if you would like ot start modifying group texts on your iPhone or Android device.
If you find yourself wondering "what is a watermark in Microsoft Word" then it's likely that you have been exploring the options in the program. Many word processing applications allow you to create watermarks or set a background image, and Microsoft Word is no exception.
There are a number of formatting options that you can apply to a Word document, and some of those options affect the page background.
One of these options is called a watermark, and it comes in a variety of styles. You can have a text watermark, a picture watermark and a handful of other custom watermark options that let you accomplish your design goals.
But as to the question of what a watermark is in Microsoft Word, then the answer is that a watermark is a design, either text or image, that appears behind document content on each page.
The watermark text or watermark image will have a washout appearance to it. This is a semitransparent formatting option. It has the effect of keeping the watermark information visible, while not making the document content difficult to read.
One less common formatting option that you might encounter is called strikethrough. You can find out how to use it with our how to draw a line through text in Word tutorial.
How to Add a Watermark in Microsoft Word (Guide with Pictures)
The steps in this article were performed in Microsoft Word for Office 365, but will also work in other versions of Microsoft Office, including Word 2016 or Word 2019.
Step 1: Open your Microsoft Word document.
Step 2: Select the Design tab at the top of the window.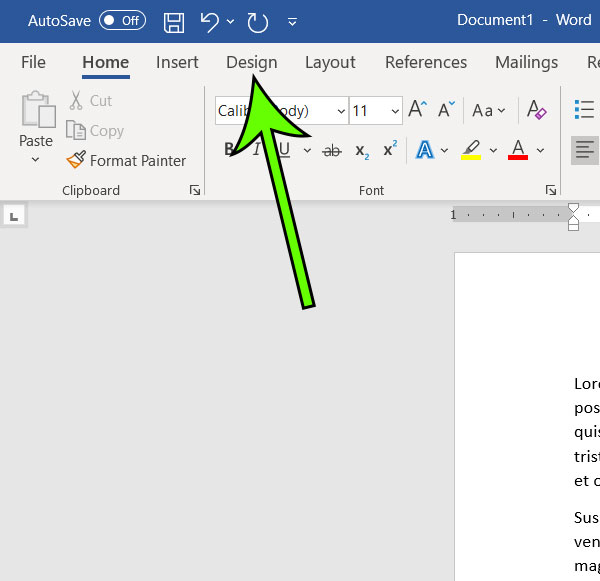 Step 3: Click the Watermark button in the Page Background group of the ribbon.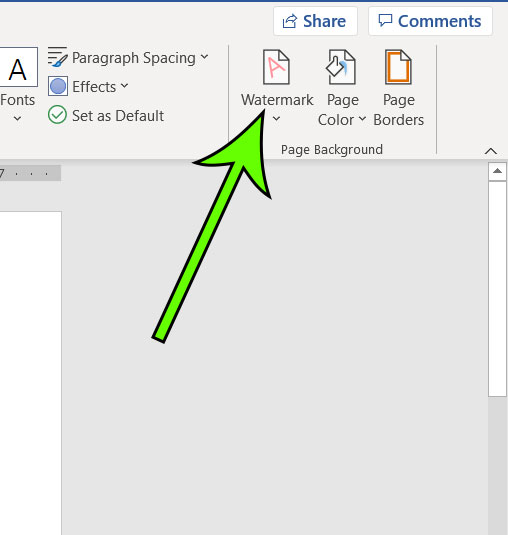 Step 4: Select one of the default watermark options from the drop-down menu, or click the Custom Watermark button if you wish to add a picture watermark, such as a company logo.
Note that there is a Remove Watermark option on this menu that you can use later if you decide to remove your watermark.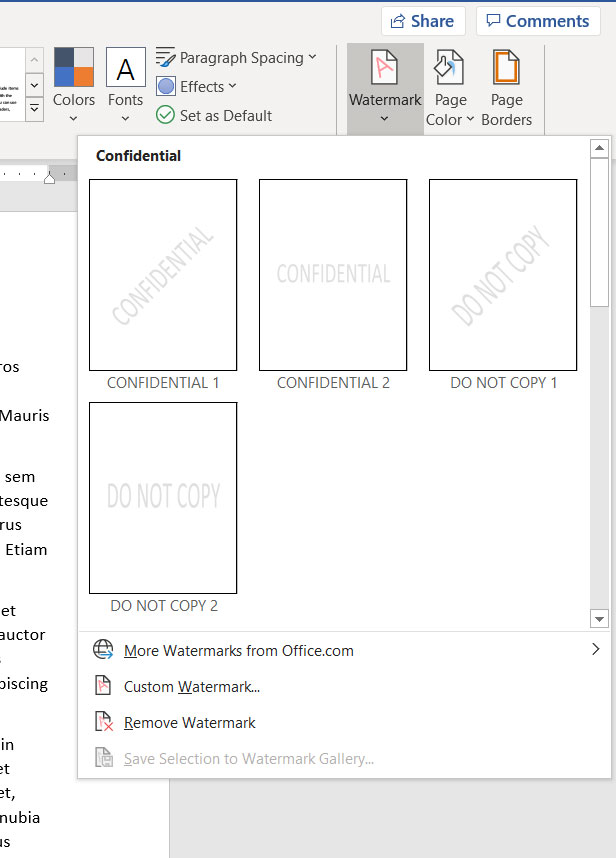 Step 5 (optional): Check the circle to the left of Picture watermark, then click the Select Picture button if you wish to add a pictures as your watermark.
You can also check or uncheck the Washout option, depending on your preference. Once you're done, be sure to click the Apply button.
Now that you know how to make a watermark in Word 2016, you will be able to use this technique any time you encounter a document that would benefit from that type of formatting.
Additional Information About How to Insert Watermarks in Microsoft Word
Watermarks that you choose will be added to each page of your document.
Additional page customization options can be found on the Layout tab (or Page Layout tab in older versions of Word.)
The default watermark options include things like "Do Not Copy", "Confidential", "ASAP", "Urgent" and more.
When you are designing your own watermark, such as a custom text watermark or a watermark from a picture file, it's likely that you will want to experiment with the other options on the Custom Watermark menu until you achieve the desired appearance.
Find out how to remove a watermark in Microsoft Excel if you have a spreadsheet that someone else created and you need to remove text or an image from the page background.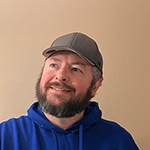 Matt Jacobs has been working as an IT consultant for small businesses since receiving his Master's degree in 2003. While he still does some consulting work, his primary focus now is on creating technology support content for SupportYourTech.com.
His work can be found on many websites and focuses on topics such as Microsoft Office, Apple devices, Android devices, Photoshop, and more.