Sometimes you will need to know the iOS version number that is installed on your device.
Whether this is because a troubleshooting guide will only work for certain versions, or that a specific iOS option is only available in some iOS versions, it's useful information to know.
Our guide below will show you where to find the iOS version number directly on your device so that you will be armed with this information in the future should you need it.
Where is the iOS Version Number on My iPhone 7
The steps in this article were performed on an iPhone 7 Plus in iOS 11.4.1. These steps are the same on other iPhone models, and in most other versions of iOS.
Step 1: Open the Settings app.
Step 2: Choose the General option.
Step 3: Touch the About option at the top of the screen.
Step 4: Locate your iOS version number to the right of Version.
Note that there is additional useful information on this menu as well, if you want to know more about your iPhone.
Now that you know how to find the iOS version on an iPhone 7, you will be able to see this information whenever you need it for troubleshooting or general informational purposes.
Are you low on space, or do you have an app that you aren't using anymore? Find out how to delete an app on an iPhone 7 and free up some additional storage space on your iPhone.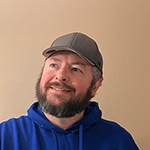 Matt Jacobs has been working as an IT consultant for small businesses since receiving his Master's degree in 2003. While he still does some consulting work, his primary focus now is on creating technology support content for SupportYourTech.com.
His work can be found on many websites and focuses on topics such as Microsoft Office, Apple devices, Android devices, Photoshop, and more.