When you type a search term into the Safari address bar, your iPhone will perform that search in a search engine.
But you might not like the option that it's currently using, and you would like to switch to something else.
Our tutorial below will show you how to change the Safari default search engine on your iPhone.
How to Use a Different Default iPhone Search Engine
Open Settings.
Choose Safari.
Select Search Engine.
Tap the desired option.
Our guide continues below with additional information on this topic, including pictures of these steps.
Searching for answers and information on the Internet is something that many of us do so frequently that we take it for granted. Many apps and services include their own means of performing these searches, and you may have found that you prefer certain search options over others.
This preference is often dictated by the search engine being used. Not all search engines are the same, and you may find that one engine gives you better results than others. So when you are accustomed to using Google search and find yourself using Bing, then you may not find the experience to be as helpful.
If one of the places where you are disappointed in the quality of search is the Safari browser on your iPhone, then you have the ability to change the browser's default search engine. Our guide below will show you where to locate this setting.
How to Switch the Default Search Engine in Safari
The steps in this article were performed on an iPhone 7 Plus in iOS 12.2. Note that this is going to change the search engine that is used when you type a search term into the address bar at the top of a Safari tab. You can still go directly to a search engine's Web page if you would like to use that search engine.
Step 1: Open the Settings menu.
Step 2: Scroll down and select the Safari option.
Step 3: Touch the Search Engine button.
Step 4: Tap the default search engine that you would like to use.
As shown in the image above, the options available for Safari's default search engine include:
Google
Yahoo
Bing
DuckDuckGo
Are you troubleshooting an issue with a Web page that you're trying to visit on your iPhone? Find out how to disable Javascript in Safari to determine if that is the cause of the problem.
Video About How to Change the Default Safari Search Engine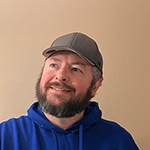 Matt Jacobs has been working as an IT consultant for small businesses since receiving his Master's degree in 2003. While he still does some consulting work, his primary focus now is on creating technology support content for SupportYourTech.com.
His work can be found on many websites and focuses on topics such as Microsoft Office, Apple devices, Android devices, Photoshop, and more.