There are a number of different technologies that are behind the websites that you visit. These can include a number of different programming languages, but perhaps one of the most common ones is Javascript.
Many websites use Javascript in a variety of ways, as it is capable of so many different things. But Javascript can be both taxing on your computer's resources, and it can potentially be used by bad actors in malicious ways. If you are willing to give up the benefits that Javascript provides you can follow the steps in our guides below to turn it off in your iPhone's Safari browser.
How to Disable Javascript in the iPhone's Safari App
The steps in this article were performed on an iPhone 7 Plus in iOS 12.1.4. By completing these steps you are going to be preventing any sites from using Javascript. Note that this can prevent many sites from functioning properly, and may make some of them entirely unusable.
Step 1: Open the Settings app.
Step 2: Scroll down and choose the Safari option.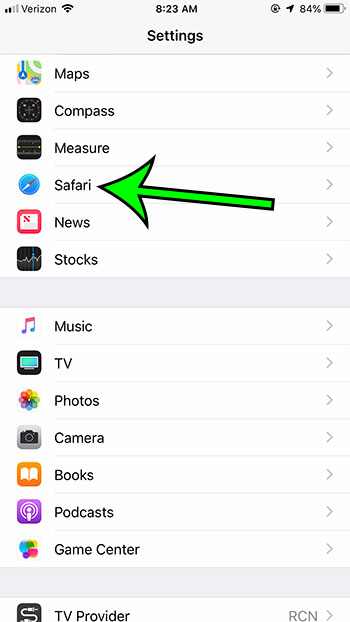 Step 3: Scroll to the bottom of the menu and select the Advanced option.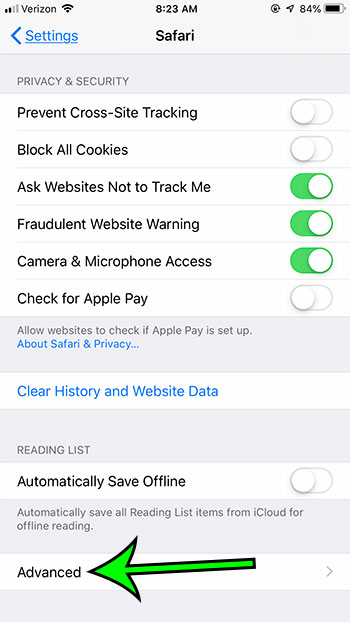 Step 4: Tap the button to the right of Javascript to turn it off. I have disable Javascript in the picture below.
Now that you know how to turn off Javascript in Safari on an iPhone, you will be able to use this method whenever you are troubleshooting or experiencing issues that you think may be related to Javascript.
If you are trying to visit a website where you need to complete a form, but that form isn't appearing, then it's possible that it is a pop up which is being blocked. Find out how to disable the pop up blocker in Safari on your iPhone so that you can view pop ups that sites are trying to display.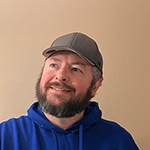 Matt Jacobs has been working as an IT consultant for small businesses since receiving his Master's degree in 2003. While he still does some consulting work, his primary focus now is on creating technology support content for SupportYourTech.com.
His work can be found on many websites and focuses on topics such as Microsoft Office, Apple devices, Android devices, Photoshop, and more.